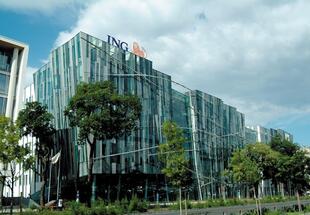 The 450,000 sqm European GLL portfolio – with properties in Amsterdam, Brussels, Paris, Budapest, Bucharest, Prague, Warsaw, Frankfurt and London – shows an average occupancy level of 85%, with over 60% of the properties being 90% occupied.

On a market where developers compete for tenants with newer and newer commercial projects, tenant retention at this scale is a clear indication and proof of excellent relationship- and asset management, where the landlord pays close attention to the changing needs of its tenants, listens to their ideas, and provides quality solutions for all new challenges emerging within the building. To bring the best and most recent example from the Hungarian portfolio of six exceptional quality office buildings (Bank Center, Roosevelt 7/8, Park Atrium, BSR Center, Népliget Center, RiverLoft), Park Atrium serves as our benchmark case study.

Designed by Dutch architect Erick van Egeraat, Park Atrium is as much a landmark office building as an iconic contemporary piece of art in Budapest, just across the street from Heroes' Square, Kunsthalle, and the Museum of Fine Arts on Dózsa György út. Its four blocks offer 26,000 square meters of gross leasable space for both office and retail use, with great views of City Park. The multitenant office property was completed in 2004 and houses offices of ING, Deloitte and Roche that jointly occupy over 85% of the total available space.

At different points in time during the last two years, all three tenants looked at the alternatives of contract renewal versus moving. After successful re-negotiation processes, all three of them decided to stay in their current headquarters, or even expressed their intent to expand within the building. After the new ING and Roche contracts have been concluded, in November 2014 Deloitte also confirmed its intention to extend their lease in Park Atrium for an additional 5 years. Redefined ways of collaboration within the company, however, required the space allocation to be re-conceptualized and redesigned. Instead of being located on several floors within the same tower, new ways of working together necessitated bigger, continuous floorplates on two consecutive floors, and an innovative office concept that strengthens cooperation within the company.

Improvements of the property, however, went beyond renewing tenant premises. GLL introduced new services that significantly improved the overall customer experience in Park Atrium. The new conference center with its meeting rooms of different sizes alleviates the need to cut off extensive areas from tenant premises for meeting purposes, thus increasing the office floorplan's workstation efficiency. The conference facility also offers catering solutions, beautiful views of the Hungarian capital, and a rooftop terrace for events of various types.
 
The refurbished cafeteria in the B3 block is both stylish and accommodating now, and offers meals and beverages even for those working late hours. Visitor parking - managed through a pre-booking system - has also been created, and is located close to the elevators for ease of access. The LEED Gold certificate that was awarded to the commercial interior of the recently refurbished ING premises proves that Park Atrium meets all technical and sustainability criteria that both tenants and international third-party environmental evaluation systems look for.

Park Atrium's 100% tenant retention rate can be attributed to a combination of all the elements above. As a number, it confirms the positive image of the service-focused landlord and the quality of the building, and also demonstrates a stable tenant mix of loyal, satisfied occupiers in another class 'A' office property of GLL Real Estate Partners.
GLL