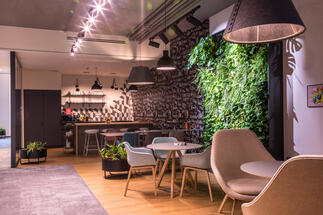 The large-scale renovation will affect the entire office building: in addition to the significant energy and technical improvements, the building's exterior facade, community and office spaces, restaurant and café will be renovated, just as the roof terrace and surrounding garden that will be significantly rebuilt. The new and fully furnished office spaces under the myhive concept is characterized by a high level of design, unique comfort function, maximum rental flexibility and a high portfolio of services.
The nearly 560 m2 showroom, which presents the myoffice I standard concept, has been completed. The tenants now have the opportunity to try the innovative office spaces that can be flexibly shaped and changed. In the showroom, one or more companies can rent a workspace and they can enjoy the full range of myhive services in the office building: excellent infrastructure, community spaces, and service for all myhive members.
The flexible office solutions that can be adapted to the needs of customers, can be diverse, but the image and the possibility of flexibility is common. Mycowork is the ideal solution for small businesses, myoffice for companies with fifty or more employees. Myroom is an office with two or more workstations, and mydesk allows the tenants to rent a desk for a shorter period of time. Myflex - for maximum flexibility - is a workstation in a coworking office that can be rented with all the benefits of myhive in any of myhive offices in the city.
"With this new opportunity, we hope to be able to serve the office rental needs of even more customers who don't want to commit in the long run or can't accurately estimate how many desktops they will need in the near future. We offer our tenants a customizable combination of high-quality community office space and a modern office centers with spacious locations, a wide portfolio of services and an excellent infrastructure," said Viktor Nagy, Country manager for Operations of IMMOFINANZ Hungary.
Located in South Pest, this 7-storey, well-equipped office building with extraordinary panorama of the Danube includes five reception areas, spacious office space, a huge roof terrace and several internal gardens. The office building has a fitness and conference room, garage for hundreds of cars, and a high-quality restaurant and café. In terms of sustainability, the building is of the highest standard, as it is equipped with the latest technology and also BREEAM certified. Accessibility is guaranteed by Access4you certification.
The myhive app supports daily contact with tenants, and in addition to information, it will now be possible to use the new myhive services even more easily, e.g. to spontaneously book office space, meeting rooms or guest car parks, order food and pay for it.
IMMOFINANZ