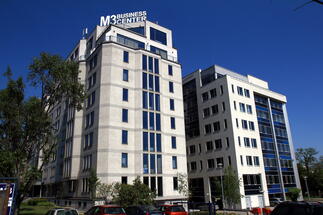 CPI's buildings, housing spacious and comfortable offices that meet 21st century requirements and can be tailored to individual needs, await tenants.

The name FORNAX, has a history of over a quarter of a century on both the domestic and the international IT market. The company is an IT corporate group in 100% Hungarian ownership. Owing to its success in dealing with the optimization of business processes, info-communication, and application integration, Fornax ICT is continually developing. It will now be able to continue its activity in a new, larger office rendered necessary by its growth, in an increasingly popular office complex easily accessible by both car or public transport, situated on the Hungária Boulevard of Budapest.

'When choosing the space for our new offices good price-value ratio, the flexibility to grow, downsize or relocate, and an easily accessible, busy but not hectic environment all played an important role. According to our principles, our company's achievement is determined by the performance of the people working for our group. As Fornax ICT pays special attention to this aspect, it was important for us to provide an office site for our colleagues that facilitates high-quality work with its pleasant and peaceful environment. Considering all of the above we have chosen M3 Business Center.' - Zoltán Nagy, managing director of Fornax ICT Ltd. said.

'It was our pleasure to welcome the professional Fornax ICT company among our tenants. We have had a successful period regarding our Zugló project, as our amount of rented space has increased by 22% over the past year, in Building B of the M3 Business Center, in an area of the city where the amount of unrented office space is higher than average.'- Adrienn Lovro, leader of CPI Hungary said.
'We are pleased to have concluded a new transaction contributing to the growth of M3 Business Center's lease ratio. We are certain that the building will serve Fornax ICT's real estate needs on the long term, by meeting all its requirements maximally.' – added David Johnston, Head of Office Agency at Cushman & Wakefield Budapest.

With its restaurants and high number of parking places, M3 Business Center is situated almost within arm's reach from the M3 motorway approaching Budapest, near City Park and Metro Line 1, and is thereby easily accessible both by car and public transport. While the formerly renewed Building A consists of more traditional office floors that can be easily downsized or relocated between 150-1000 square meters, the six-storey Building B inaugurated in 2008, has vast, clear, modern and easily convertible spaces allowing for the creation of impressive, spacious, single area rooms. All-in-all, as a consequence of this dual development concept, the two buildings offer alternatives of complex multiple office plans to companies searching for busy but quiet and pleasant space for their offices. Well-known companies like Interticket, Creditexpress, Groupama Garancia, Borther International and Öko Pannon have made this office complex their headquarters.
CPI Group (Czech Property Investments) is the owner of CPI Hungary Kft., formerly known as Ablon. In 2013, CPI Group also acquired Endurance Fund beside of Ablon and became one of the most active investors and developers in the CEE region, managing over 610,000 sq m of retail space, 407,000 sq m of existing office space, 17 hotels with 8,000 beds, and 212,000 sq m of space for light industry and storage. With over 12,600 flats, it is the second largest provider of rental housing in the Czech Republic. CPI, who became one of the largest real estate investors in Budapest, also owns Gateway Office Park, Business Center 99 (a.k.a. BC99), M3 Business Center, Arena Corner and Budaörs Office Park (BOP) in Budapest.
CPI Hungary