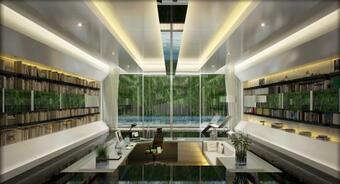 Trend 1: Technology continues to break down barriers of the traditional workplace, allowing for more open floor plans, flexible work schedules and spaces, shared office arrangements etc. There will be an increase in more touch down spaces and hoteling – places where employees plug-in their laptops for the day. Cloud computing between technological gadgets (computers, phones, tablets) reduces the need for so much storage and filing cabinets, and will continue to do so as it becomes more commonplace.


Trend 2: Globalization is changing the way we view everything. The world is getting even smaller. As more Baby Boomers retire, our work force balance will include more people from different parts of the world. They bring to our offices varying political, societal, cultural and religious viewpoints. If we honor these employees and their traditions, we have the opportunity to access a much wider pool of talent. And they will have a different way of looking at work that can enhance your company. They also provide an entree into new people who expand your client base. It is commonalities that attract us to one another, but the differences can be utilized to expand and strengthen a company, its values and its employees- when handled correctly.


Trend 3: Sustainability is an important value to Gen X and Gen Y, particularly now with sustainable resources becoming more commonplace and therefore, less expensive and easier to obtain. Expect that your future employees will expect you to honor the earth by using reusable or local materials, adding natural elements and reducing energy needs and waste.



Another aspect of this trend is reconstruction. Instead of building a new office location for the ground up, offices are redesigning and updating their existing spaces. While they may not go for a Leadership in Energy and Environmental Development (LEED) rating, many are going Energy Star, which takes a look at reductions in energy usage. The costs of reconstruction can be less prohibitive and the decrease in energy usage results in a reduction in long-term expenditures.



Why is all of this important to you?

Your office design needs to reflect the shifting expectations and needs of your employees. When you incorporate those trends in office design into your workplace, you will:

1. retain and attract the best talent

2. experience an increase in overall productivity

3. increase your bottom line.
Greenbuildinginfo.eu