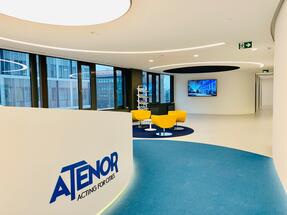 'In the beginning, Atenor Hungary operated with only a few members, in the last years, however, it started expanding dynamically. We switched the previous, modest sized and very simple premises to an imposing office, representing the most unique and fanciest design possible. Our company goes through significant growth and improvement, which are reflected on the volume and quality of our two ongoing megaprojects, so continuing our activity in a more spacious and representative location was well reasonable. With the size and level of quality of our new office, we achieved the appearance that Atenor represents globally. We developed exclusive spaces and used many bends, glass walls and special surfaces. The pure and minimal design was complemented by bold and lively colours, which results in a futuristic, friendly, youthful, flexible and representative office' explained Zoltán Borbély, Country Director.
'We put a lot of effort in conceiving the spaces, practically from the first moment until the last we were thinking together on a daily basis with our interior designer, Barbara Krizsán. We had an exact view about what style we would like, to which Barbara imagined the perfect concept for the functions, shapes and colours. As the result of the continuous and effective communication, the office became the one that we dreamed of' added Zoltán Borbély.
Atenor also announced that its latest, grandiose project, Aréna Business Campus, located on Hungária Boulevard in District VIII, is extremely successful as the first building already has two signed lease contracts one year before its handover. More than 700 m2 ground floor area has been leased to Costa Coffee and a medical centre.
The real estate developer, listed on Euronext Brussels, started the development of the 72,000 m2 office campus' first building last spring, that is a 20,000 m2, ergonomically outstanding, 'A+' category office complex and going to be handed over in the beginning of 2020.
Aréna Business Campus was designed by Vikár and Lukács Architects Studio.

The location of Aréna Business Campus is excellent, the real estate is 3 minutes' walk to the Stadionok metro station. It is situated near to Aréna Mall Shopping Centre, furthermore the in-house services, the working and recreational spaces will have a major role.
From the beginning, Atenor develops real estates that increase the attractiveness of cities. It is going to carry out an office complex on Hungária Boulevard, which satisfies the needs and demands of today's citizens, users, as well as of future generations.
Atenor Aréna Business Campus