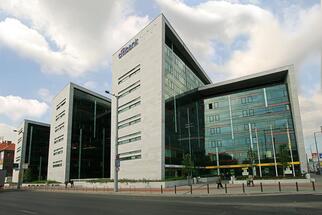 The Tenant awaits those who are interested in AVON products, Consultants, Coordinators selling and buying their goods from 1st of June 2013 in their nearly 200 sqm showroom. At the contact point, as the company calls their showroom, visitors can view AVON's products, they can even test the wide range of goods. In the future, the contact point is also going to serve as the location of the company's PR activities and it will give home to different professional trainings, where Consultants can develop and perfect their knowledge of the novelties and products of the beauty industry.
Ildikó Hentes, Manager of AVON Cosmetics Hungary Indirect Sourcing said "we decided upon the store premises in Arena Corner Office Building after a long search, which with its right size of shop window, high-quality interior, excellent accessibility and flexible conditions corresponded to the expectations of our planned customer service and show office." "Orco Property Group is pleased to welcome one of the biggest direct-selling companies among Arena Corner's tenants." – emphasized Zinaida Vojnár, Leasing and Marketing Manager of ORCO Hungary.
Arena Corner Office Building is located in District 8, in one of the city's busiest junctions, on the corner of Hungária Krt. and Kerepesi út. The building can be easily accessed by public transportation, as well as by car. Among many advantages of the office complex of 47,000 sq m, are the guarded parking garage, the flexible and efficient designed office spaces, the 24/7 reception service, the inner courtyard and terraces, and many other services, amidst them an in-house restaurant and café. The currently net leasable area is 24,000 sq m office space and 3,800 sq m retail area.
For further information: www.arena-corner.hu