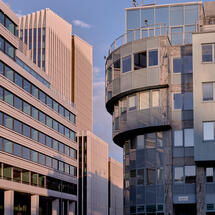 Ferenc Kis-Szölgyémi, CEO of B+N Referencia Zrt., said about the lease transaction: "We are happy that we managed to find such a high-quality, modern office in the immediate vicinity of our HQ, and that the contracting process went smoothly in a short time. Our research and development department was happy to occupy the new office area, where we are mainly testing and developing the Robin cleaning robot, our self-developed machine."
Dóra Papp-Vas, Leasing Director of ConvergenCE, added: "We are delighted to welcome B+N Zrt. to Árpád Center, and I would like to thank to Property Solution Group for their professional cooperation. I'm glad that Árpád Center is very popular among companies looking for good accessibility and an excellent working environment."
At the end of last summer, Árpád Center office building was acquired by Investum Kft., whose Managing Director, János Locher, commented on the transaction: "Nothing proves the success of the building better than the fact that such representative tenants as B+N Zrt., makes a long-term commitment to the building and I'm proud that with this transaction, the occupancy of the building is approaching 100% again."
ConvergenCE