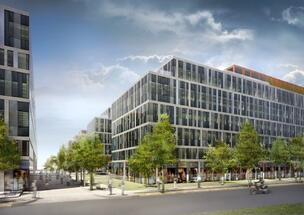 The total Budapest office stock (including owner-occupied and speculative buildings) reached 3,205,600 sq m in the second quarter of 2014. BRF registered one new office completion in the Váci Corridor submarket. With the delivery of Váci Corner Offices (21,100 sq m) the total modern stock comprises 2,569,100 sq m of modern 'A' and 'B' category speculative office buildings and 636,500 sq m owner-occupied office buildings.

The office vacancy rate currently stands at 17.6% showing a 0.9 percentage point decrease q-o-q and a 2.3 percentage point decline y-o-y. At submarket level South Buda is still the best performing market (11.8%), whilst the highest vacancy level is still seen in the Periphery region (31.9%).

The total leasing activity in Q2 was 191,720 sq m which is an outstandingly high quarterly figure. Take-up (excluding renewals) also showed a record high volume, reaching 81,210 sq m. Strong leasing activity in Q2 was boosted by numerous large transactions (>5000 sq m) concluded in the quarter.

Total leasing activity amounted to 248,900 sq m in the first half of the year, indicating a 71% increase compared to the same period in 2013.


Out of this volume the renewals had a share of 52% (100,400 sq m). The volume of new leases accounted for 21%, expansions and pre-leases took 11% share each. 5% of the total leasing activity was owner occupation.
Source: BRF

BRF registered 188 lease agreements in Q2 2014, with an average deal size of 1,020 sq m which is almost three times higher than registered in Q1 2014. There were 33 transactions with volumes greater than 1,000 sq m, covering 4 lease expansions, 7 new leases, 3 pre-leases, 18 renewals and one owner-occupation.

The largest transactions of the quarter were lease renewals, one in Spiral Office Building on 29,000 sq m and in City Gate on 13,000 sq m . Two major pre-lease agreements were concluded in the Váci Corridor; one in V17 on 8,500 sq m as well as GE Healthcare, which signed its contract in Váci Greens C for 6,400 sq m. The largest new transaction was signed by a public company in M3 Business Center, covering 5,900 sq m. Moreover, Vodafone expanded its current office area in Area Corner by 5,300 sq m.

The strongest occupier activity was recorded in the Central Pest submarket, 34% of total transactions were concluded here. Contrary to the previous market trends, increased leasing activity was observed in the Non-Central Pest submarket, making a share of 21%. It was followed by the Váci Corridor, reaching a share of 15.6%.

The strong performance of the quarter resulted in a high net absorption rate (+46,150 sq m).


BIEF