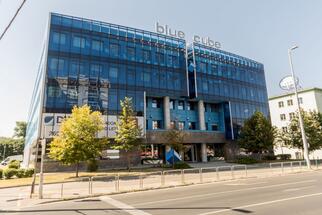 Blue Cube welcomes Fővárosi Vízművek (Budapest Waterworks) to be its largest tenant, leasing approximately 5,800 sqm. After having sold its previous premises, Budapest Waterworks was searching for a new, modern office complex suitable to become its new headquarters and to accommodate all of its functions. Fővárosi Vízművek will occupy more than 60% of the building. Modifications and fit-out works are in progress, moving-in is planned to take place on 1 August 2018.
Moreover StreamNet Kft., a company specialised on the realization of innovative audio-video technologies in business environment also signed a lease agreement in Blue Cube in the first quarter. The company was searching for a state-of-the-art office at a highly frequented location. Beyond a unique office space, StreamNet required a special technical metering room and a large storage as well – all of which were available in Blue Cube. The latest lease contract was concluded with the international milk processing company Lactalis Group that will occupy nearly 500 sqm in the building.
"We are happy to welcome our new tenants in Blue Cube that will surely prove to be a perfect solution for them, no matter what sector they are operating in. Due to our major new lease transactions concluded over the past twelve months only some 400 sqm space is left for rent", said Mr. Géza Barabás, managing director of S IMMO Hungary.
S IMMO