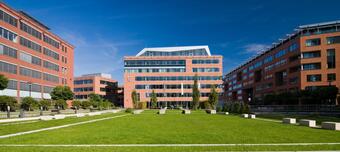 The seller of the property is the private equity real estate investment management firm Bluehouse Capital, which acquired the asset in October 2012. Since then Bluehouse successfully repositioned the building by improving its tenant mix and achieving full occupancy. The acquisition of Infopark E is the largest single asset deal by lot size this year, and the third institutional deal that Colliers closed in Hungary in 2015. The transaction is a great impetus to the local real estate market, which has regained its momentum in the last two years.

The new owner, the Magyar Posta Takarék Ingatlan Befektetési Alap managed by Diófa Asset Management, has enlarged its real estate portfolio with a high quality, income producing class 'A' office building. "The high quality property sits within the highly successful Infopark, the key area for IT companies in Budapest." added Bence Vécsey, Director, Head of Investment Services at Colliers International Hungary.
"Within the three years that Bluehouse owned the property, we eliminated its vacancy and increased the WAULD, executing our repositioning strategy and creating a class A' institutional asset. Hungary is gradually re-gaining its place among the most attractive investment markets in the CEE." said Yannis Ganos, Bluehouse Capital's Investment Director.

"We are delighted to expand our portfolio with a really high quality office building. This was our second deal this year, but we are analyzing other investment opportunities and we will remain one of the most active investors on the Hungarian market." said Gergely Biro, CEO of the Diófa Asset Management.

According to Bence Vécsey, the building is fully let to international companies such as: Lufthansa Systems, the European Institute of Innovation and Technology, National Instruments, amongst others, providing a defensive, yet attractive risk profile and a very stable cash-flow to the new owner.

"Budapest represents a great buying opportunity for investors seeking quality products at a yield premium compared to other core CEE markets. We have seen an increased level of investor interest in Hungary, targeting mostly offices and retail assets, and are certain that the transaction volume by the end of the year will be significantly higher than in 2014." added Bence Vécsey

CMS Cameron McKenna provided legal representation to the seller, while Jalsovszky Law Firm represented Diófa Asset Management.
Colliers