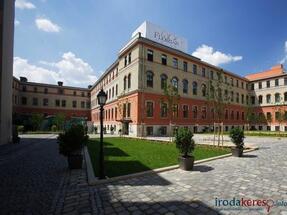 For their office needs they selected the Flórián Udvar, a BIF property, with the expected relocation in the fourth quarter in 2019.
János Fehér, the CEO of Brown-Forman Hungary, said that 'In our selection process it has been high priority to ascertain the comfort and well-being of our colleagues in their new work environment. In the property we finally decided on the amount of natural light, green space is optimal and are combined with a convenient location in Óbuda.'
The office building situated in the heart of Óbuda offers generous range of services coupled with the monument protected building status of the property, thus, making it an exceptional choice among the available office supply in the North-Buda submarket. According to Kinga Halász, JLL's office consultant, 'During the tenant representation negotiations a great emphasis was placed on satisfying our client's expectations. The nearly half-year long project allowed us to become thoroughly acquainted with the culture of the firm and we are confident that the facilities at the Flórián Udvar and the available additional services in the surrounding area will make the property a perfect long term match to the Brown-Forman.'
The 10,300 sq m category 'A' Flórián Udvar has a considerable history as originally it operated as the Royal Hungarian Tobacco factory. It attained its current status in June 2008 when it was reopened in the centre of Óbuda as a prime office facility, at Flórián Square. To service the tenants' needs a parking garage that can accommodate 233 vehicles was constructed, additionally a restaurant and a cafe situated in the green inner courtyard were created. To maximise the desirability of the property a nearly 2,000 sq m expansive inner garden was added. The office building is accessible by car and public transportation, furthermore it is a bicycle friendly facility.
JLL