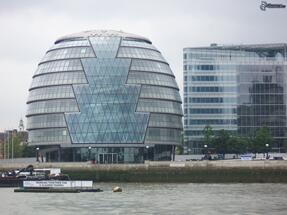 Out of 35 cities across Europe, London is ranked in first place in CBRE's index; followed by Paris in second, Berlin in third place and Munich and Madrid completing the top five. The report also identifies the fastest-growing, emerging European tech cities of the future as Budapest, Bucharest, and Istanbul.
Rank City

1 London
2 Paris
3 Berlin
4 Munich
5 Madrid
6 Dublin
7 Budapest
8 Bucharest
9 Istanbul
10 Tel Aviv
11 Copenhagen, Stockholm
13 Amsterdam
14 Moscow
15 Barcelona
16 Vienna
17 Rome
18 Milan
19 UK Thames Valley
20 Helsinki

The key findings from the report include:
• The rate of employment growth in the tech sector over the past five years has far exceeded the rate of growth for office-based employment as a whole, and the sector is expected to continue to outperform. Berlin, Dublin, London, Munich and Vienna, as well as a group of fast-growing emerging markets including Budapest, Bucharest, and Istanbul have seen particularly rapid growth.
• Across a group of major European office markets, the proportion of leasing by technology companies has grown steadily from under 10% in 2008-2009 to over 16% in 2016, surpassing the contribution of the banking and finance industry during this period.
• London, Munich and Paris dominate hi-tech patent applications to the European Patent Office.
• Technology encompasses a diverse group of activities and some tech hubs have attracted particular sub-sectors. This is important in identifying sources of demand and other real estate opportunities. For instance, digital advertising takes its greatest share in Berlin; while IT services requirements have a greater proportion in Budapest.
Richard Holberton, Senior Director, CBRE Research said: "London and Paris are the leading European tech markets, and benefit from strong demand from a wide range of occupier types and sizes. However, our research shows that there are a wide variety of attractive tech locations: other cities that feature in the top ten include Berlin, Madrid, Dublin and Budapest. Outside this list of the top twenty markets Hamburg, Sofia and Warsaw are increasingly important European tech hubs. Cologne, Turin and Utrecht continue to see high concentrations of employment in the sector, while Lyon and Zurich are expected to see stronger growth in tech employment than some larger markets."

CBRE