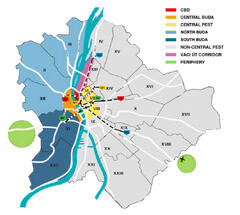 In the third quarter of 2014 the total Budapest office stock (including owner-occupied and speculative buildings) reached 3,219,380 sq m. This quarter the speculative office stock increased again because of the handover of the Ilka Corner (2,700 sq m) and of the northern wing of Vision Towers (11,125 sq m). BRF registered a purchase of a smaller building by a tenant, which was subsequently categorised in the owner-occupied stock, so the total modern office stock comprises 2,581,750 sq m speculative office building and 637,630 sq m owner-occupied building.


The Budapest office vacancy rate stands at 16.9% showing a 0.7 percentage point decrease compared to Q2 2014 and 1.7 percentage point decrease year-on-year. Similarly to previous quarters the South Buda submarket has lowest vacancy rate (11.3%), while the highest vacancy level remains in the Periphery region with 33.0%. The largest positive change was registered in the Non-Central Pest submarket where the market indicator dropped 2.0 percentage point quarter-on-quarter and reached a 18.0%.
The total leasing activity in Q3 was 99.660 sq m, which is almost in line with the volume of the corresponding period of last year, however, only 52 percentage of the outstandingly high demand in Q2 2014. 

Take-up totalled 348.560 sq m in the first three quarters of the year, which is 43% higher compared to the same period of last year.
Out of this volume new leases had a share of 43% (43,440 sq m), while renewals had 41% (40,450 sq m). The volume of expansion took 11% share (10,990 sq m), while pre-leases accounted for 4% (3,600 sq m). 1% of the total leasing activity (1,180 sq m) was owner occupation.


The BRF registered 182 lease agreements in Q3 2014, with an average deal size of 548 sq m. This is 8.1% higher compared to Q3 2013 and equals to 53.7 percentage of the previous quarter's average deal size. There were 26 transactions with volumes greater than 1,000 sq m, covering 11 new leases, 10 renewals, 3 lease expansions, 1 pre-lease and 1 owner-occupation.
One of the two largest transactions of the quarter was a renewal with an IT-company in the City Gate office building (8,500 sq m), while the other was a new lease with a public tenant in the Twin Office Building (6,000 sq m). 

Similar to the previous quarter, BRF registered the strongest occupier activity in Central Pest submarket, where 24.3% of the transactions were concluded. Increased leasing activity was observed in Central Buda submarket making up 21.4% of the total demand followed by South Buda submarket (18.4%).
BRF