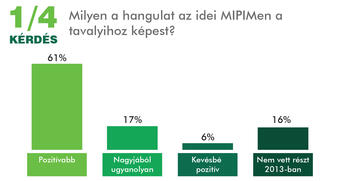 The survey reveals that of the respondents polled the majority are feeling 'bullish' about the European commercial real estate market in 2014. This sentiment compares favourably with 2013, with more than three quarters (77%) describing their current mood as either 'more positive' or 'about the same' as last year.

The CBRE survey revealed that the much stronger tone and sentiment in the European commercial real estate investment market is returning to the levels seen in 2007 before the Global Financial Crisis (GFC). More than half (53%) of respondents stated that they were either 'more positive' or felt 'about the same' as in 2007.

"The feeling of positivity was palpable at MIPIM 2014; there is certainly less caution and more confidence. During the first half of 2013, investors were focused on core markets and assets, and the big change we have seen coming into 2014 is that investors are now looking for growth. We have moved away from crisis and investors are beginning to feel much more positive about the eurozone. Where we had a significant divide between the north and south of Europe, we are now seeing recovery and growth", Jonathan Hull, Managing Director, EMEA Capital Markets, CBRE, commented:

Respondents were also asked what types of property assets (by sector and market type) were most attractive to purchase in 2014. The spread of answers was varied with a significant majority stating a preference for Offices (40%), followed by Retail (32%) and Industrial (28%) assets. While it is clear that there is still substantial demand for core markets such as the UK, Germany and France (40%), those viewing 'recovering' (34%) and 'emerging' (26%) as most attractive reflects increased confidence among investors and a desire to move up the risk curve in 2014.

The positivity at MIPIM among property professionals is supported in the findings of CBRE's 'European Real Estate Investor Intentions 2014' survey. The report revealed that investor confidence in Western Europe is up sharply compared with last year, with the market chosen by 71% as the most attractive global region for investment.

This report revealed significant shifts in geographical preferences, with a strong rise in the proportion (19%) of investors seeing Spain as most attractive for purchases in 2014 – up from 6% from 2013. Madrid is now in second place to London as the most attractive city for investment, a dramatic change from last year, with Barcelona also in this year's top ten choices. Investor appetite for opportunities in 'recovery markets' is further evidenced by the inclusion of Amsterdam and Dublin among the top ten.

"In line with the improving general sentiment, there is an increasing interest in emerging markets like Hungary. Investors started to re-educate themselves about the local business opportunities and now they are getting ready to invest into Hungarian real estate. In line with sentiment, the office and retail sectors in Budapest will be the primary focus for investors re-entering the Hungarian market", Tim O'Sullivan Head of Capital Markets at CBRE Budapest added.
CBRE