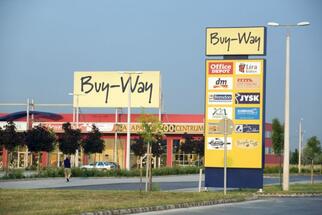 The largest new lease was signed by Ugrálóház moving in to over 2,400 sq m. Nike will open a 716 sq m store in May and Sport Factory, a Hungarian sports fashion retailer moves in to a 361 sq m premise.
Lyliet Meléndez, Associate, Retail department at Cushman & Wakefield in Budapest commented on the success: "These significant retail lease transactions prove that major retailers have continuous demand for new locations, and good retail locations continue to attract new and well-known brands. With these new brands on board the tenant mix of Buy-Way Dunakeszi is now refreshed and is satisfying all customer needs."

Bea Déri, Head of Marketing at CPI added: "Modern times bring paradigm shift in both sales and marketing. This phenomenon requires adjustments from the smaller scale retail operators. As a result of the last year changes of our business strategy, Buy-Way Dunakeszi could successfully cope with the changing demand of its large competitors."
The 21,573 sq m Buy Way Dunakeszi is one of the most important and sought after retail park north from Budapest at the junctions of M2 and M0 motorways. It's main tenants are C&A; Deichmann; Kangaboo; Möbelix; dm; Reno; Waterland; KIK; Pepco; Dockyard; Office Depot; Líra and Galaxy Toys, Color Fitness, Háda and Gigamatrac.
Cushman & Wakefield