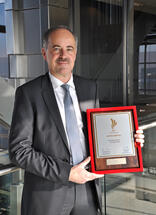 "We are delighted to have been recognized as the CEE Retail Agency of the Year. Over the last few years we have made substantial investment in our retail platform to ensure we can provide unrivalled quality and depth of services, across 16 countries in Central and Eastern Europe. We have an integrated approach to Retail, with our Consulting, Leasing, Management, Refurbishment and Transactional teams all working hand in hand as a one stop shop, to ensure we deliver the highest value to our clients", Walter Woelfler, Head of CEE Retail at CBRE commented.
 
"Last year we further expanded our Retail Team to have dedicated experts focusing on shopping centres and high street retail. This way we can serve our clients even better and strengthen our position in the Hungarian market", Lóránt Kibédi Varga, Managing Director at CBRE Budapest added.
 
In 2014, CBRE's 200+ Central and Eastern European professionals leased more than 300,000 sq m of retail space, transacted on over €600 million worth of retail properties and managed more than 1.2 million sq m of retail space.
CBRE