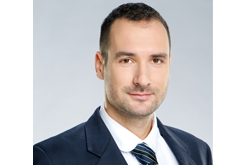 He arrived to CBRE from Hypo Alpe-Adria Bank Plc.'s Klagenfurt Head Office in Austria. Earlier he held various positions in Hungary and in the UK, for example at Berkeley Group Plc.
 
Dávid graduated from the Budapest College of Communication and Business and acquired an MSc degree in Real Estate Development (RICS) at the University of Westminster, London. He also undertook a management training programme at the IEDC School of Management, Bled, Slovenia.
 
"We are happy to welcome Dávid Tóth to the Valuation team. With a new talent on board we will further improve our professional services to the benefit of our clients."– commented Margaréta Mészáros, Head of Valuation of CBRE Hungary.
CBRE