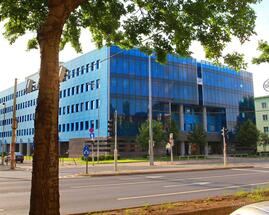 Podium is a completely vacant modern building (compiling 5 700 sq m of office space) located in the heart of the 6th district. It's ideal for tenants who prefer working in a central location and feel the buzz in the city. The great public transportation and the wide range of amenities nearby all serve the comfort of the future occupiers. Inspired by the surrounding theatres, venues and the Hungarian Broadway, the building (built in 1993) has been recently renamed to Podium Office Building. "The future tenants are in a great position because the refurbishment and fit out of the building will be planned according to their needs." – noted Petra Holy, Associate Director at Colliers International Hungary's Office Agency.

Blue Cube was built in 2002 and was fully refurbished in 2013. The new building management system along with the mechanical systems, reshaped floor plans, efficient layouts and new design (façade and internal common areas) all resulted in a successfully repositioned and competitive office building on Váci út corridor. Besides its anchor tenant and some new ones it still offers 3 590 sq m vacant office space on two floors with flexible layout. Its great location next to Gyöngyösi street metro station (M3), its technical parameters and amenities nearby - Duna Plaza is next door – are all key factors for choosing Blue Cube. It has won "The office building of the year" People's Choice Award at the 4th iroda.hu Awards Gala in 2014.
"We believe that our personal contact with the tenants and the flexibility in every given matter adds up to choosing our buildings. Flexibility toward the tenant is a key word in every sense for us!" - said Katalin Sermer, the country manager of S IMMO group.

"We are excited to work together with S IMMO on these two buildings. We see a great potential in Podium, which building was not on the market for many years; and also in Blue Cube which needs to be repositioned in people's minds to make awareness that it is offering A category office space on 3 500 sq m of adjacent space." – added Tim Hulzebos, Managing Director of Colliers International Hungary, who expressed his pleasure about S IMMO working together with an international real estate agency again.
Colliers