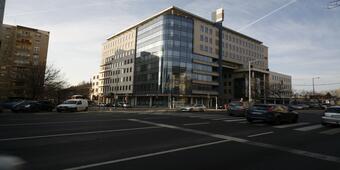 Media Markt, or the German Media-Saturn-Holding GmbH, founded in 1961 has its headquarters in Ingolstadt and comprises three independently managed retail brands Media Markt, Saturn and Redcoon operating under the Media Markt entity. The company operates 24 Media Markt stores in Hungary which are now managed from BC140, on the popular and fast developing Váci Office Corridor in Budapest.

Csongor K. Német, CEO of Media Markt Saturn Holding commented: "After a detailed search of the market, we are very happy to have acquired space at BC140. The location and profile of the building fit perfectly with our long-term plans, as we continue to develop our brand and serve our clients."

David M Johnston MRICS, Partner, Head of Office Agency at Cushman & Wakefield added: "We are delighted that Media Markt selected BC140 for their long-term office solution in Budapest. This is a sizeable transaction in the current market, and the constituent terms were mutually beneficial for both Media Markt and the Landlord. This transaction increases the occupancy of BC140 to a respectable 71%, and we are confident of further transactions in the short-term as the Vaci ut continues to be the most sought after office location in Budapest.''
Another of the Landlord's Budapest office properties, MOM Park Towers, has recently been awarded BREEAM ''Very Good'' in-use accreditation. Constructed in 2000, and extending to 13,500 sq m over three towers, MOM Park Towers has continued to prove popular to tenants and enjoys a strong tenant-mix with international names to include Cisco Systems, Novell & GSK.
David M Johnston MRICS, Partner, Head of Office Agency at Cushman & Wakefield commented on the success: "MOM Park Towers continues to prove extremely popular with tenants, which is demonstrated by its impressive occupancy rate of 98.2%. The Landlord has recently renewed several of its key tenants, which ensures that this asset will perform securely over the next years. Currently, we only have a 250 sq m suite left at the property, which we are in discussions with third parties for, meaning an occupancy level of 100% could be achieved in the short-term.''
The Landlord's leagal representation and legal consultancy was provided by Orbán & Perlaki Attorneys-at-Law (OPL).
Cushman & Wakefield are the leasing agents of both BC140 & MOM Park Towers, and have been working on each of the buildings for more than 6 years.

Cushman & Wakefield