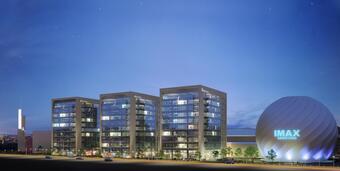 However SEE has a reputation for bureaucracy and unpredictability that can make the development processes expensive and time consuming. Further, the countries are regarded as suffering from a lack of visibility and liquidity and an obvious exit strategy for developers, as international investors have been reluctant to enter the markets due to economic, political, legal and procedural concerns. Although Romania is finally regaining its status as a popular investment and development destination as it recovers from an economic downturn. With several investment grade products on the market, increasing interest from investors, strong economic growth and an increasing willingness of banks to provide debt finance, 2014 is expected to set a new post-2008 investment volume benchmark.
Romania is now attracting such prestigious developers as Skanska, AFI Europe, Raiffeissen Evolution (RE), Portland Trust and the Atenor Group, which is seen as a significant step forward for the investment market. With quality products on the market, investment volume is expected to rise and a wider variety of investors are expected to be active in Romania. Obviously Romania has benefited from EU membership.

"The EU will lead to an improvement of the judicial and legal system in Serbia, which will improve the local investment climate and hence benefit the investment market in the long term. From an international perspective Serbia still lacks much of the institutional and judicial transparency which is crucial to attract investors and developers," said Fabijan Matosevic, Co-Director of Victorios investment managers.
Cocerns over these problems confronting investors were echoed by Zlatko Greguric, Principle Banker for Property & Tourism at the EBRD, with regard to Croatia at the 10th Annual International Conference on the RE Market in Croatia. "We already have the structures in place to create a development and investment market. However the structure is not being properly implemented in the key areas of urban planning and permitting. This is why a number of serious developers and investors have been stuck at the very first block. They have often been frustrated after having tried to resolve the bureaucracy and red tape for up to two years and simply walked away," he commented.
Belgrade, Zagreb and Bucharest are generally viewed as offering office development possibilities despite being at different points in the development cycle. Belgrade has below 10 percent vacancy while Zagreb has high vacancy of around 17 percent and an office market generally regarded as "overheated". In contrast Bucharest is attracting significant development.

However development opportunities are anticipated in Croatia with an economic upturn in the economy in the next 2-3 years. The conventional wisdom is that developers need to forward plan in anticipation of an economic recovery. "Developers need to look 3-5 years in advance and therefore should now start planning for the future," commented Tomislav Greguric, Managing Director of the Zagreb-based Renova Property Consultants.

Office supply in Belgrade remains low, even by CEE standards, at a little over 600,000 sqm and only 50 percent of this is Class A according to JLL. The biggest problem with regard to investment in SEE is the lack of institutional standard product due to low development, commented Andrew Peirson, Managing Director of JLL SEE at the SEE Property Forum in Belgrade, organised by the Portfolio Group in partnership with RICS. "The major problem in the region is the uncertainly of market processes, which applies to the performance of the economy as well as to tenant demand and development activity," he said.

Claus Graggaber, Managing Director of Erste Group Immorent in Serbia agues that EU accession is key for Serbia as it will establish a fundamental trust in the EU candidate country from international investors. This sentiment is echoed by Rudolf Riedl, Managing Director of Raiffeisen Evolution for SEE and Hungary. "Corresponding to EU directives creates a more transparent market and it will definitely bring positive developments for international players. It is not necessarily about the accesssion, rather about the general adaptation of the industry's leagal and regulatory framework in order to make it safer and more transparent."

Belgrade office pipeline is very limited and the almost complete absence of projects and solid demand will result in a lack of space for potential tenants. Only 3,200 sqm of new supply is expected to complete in 2014 with the delivery of the Old Mill office and hotel complex located in New Belgrade where 90 percent of Belgrade office stock is located. The renovation project by the Austrian Savavia Group will deliver the 240 room Radisson Blu Old Mill Hotel in addition to office space that has received financing from the EBRD.

Only two major office projects are in the pipeline, GTC have started construction of the first 10,000 sqm phase of a 27,000 sqm development. In another mixed-use development, Immorent are developing the Sirius office and hotel project, also located in New Belgrade.

However, in a major development for the city, the Abu Dhabi-based developer, Eagle Hills and the Serbian prime minister Aleksandor Vicic have unveiled plans for the €3 billion Belgrade Waterfront (or Belgrade on Water) urban development project along the bank of the River Sava in Old Belgrade. The Serbian Prime Minister described the scheme as creating a business and tourism hub for the Western Balkans. According to the development plans, the urban redevelopment project will include offices, luxury apartments, hotels and the biggest shopping centre in the SEE region. Development is due to begin in February 2015.

The development scheme forms part of a wider trade cooperation between the Serbian and UAE governments. Details of the development joint venture have not been released but in general finance is being provided from the Dubai side and Serbia is providing the land.
With regard to pipeline DTZ Echinox estimate that new Bucharest office supply will reach 150,000 sqm in 2014 in a city with a total stock of a little over two million sqm. Vacancy is put at 15 percent according to JLL. However vacancy should be treated with caution as it varies widely depending on the sub-market.

A significant development for Bucharest is that Skanska is due to complete the first 19,500 sqm phase of the Green Court office complex in the fourth quarter after an estimated €46 million investment. Skanska have agreed a 13,700 sqm prelease with Orange. The company has applied for a Gold LEED certification for the planned three buildings totalling 52,000 sqm. The project is expected to be available for purchase by the turn of the year. The lastest office delivery in Bucharest was by the Belgium Atenor Group with the 18,000 sqm phase 1 of the Hermes Business Campus (HBC) in the north of the city. The three phased project is planned to deliver a total of 78,000 sqm of space.
Significantly the industrial sector is also starting to attract investment. The acquistion of the 17,000 sqm Innovation Logistic Park by Secure Property Development & Investment was the first significant industrial transaction in Bucharest since 2011.
It is hoped that Croatia's EU accession will attract new retailers and cargo and distribution players could stimulate the market, increasing its appeal to foreign investors and operators. Sinisa Dadic, Partner at 3D Consulting argues that Croatia is in a position to act as a corridor from central and northern Europe to ports such as Rijeka.
GJM