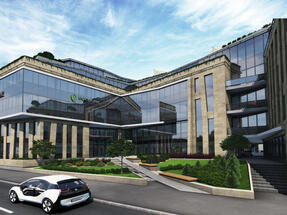 The construction of this new and state of the art property is done by Swietelsky while Cushman & Wakefield international real estate advisor acts as the exclusive leasing agent of the scheme. Ecodome which is planned to be handed over in Q2 2018 is a refreshment to the Central Buda office submarket which has been struggling in recent years with absolutely no new stock delivered.

"We are proud to be mandated with the exclusive leasing of this landmark building. The location and the high quality lets us foresee the speedy lease up of the office areas as occupiers seek new space in the central Buda submarket." – said Tamara Szántó, Associate, Head of Office Agency at Cushman & Wakefield in Budapest.

"The state of the art Ecodome office building combines modernity with classic atmosphere. Our aim is to create an outstanding, super green landmark project in this sought after location. This building with all its features, services, amenities, and social areas is the perfect accommodation for larger and smaller, local and international occupiers as well."- added Bálint Erdei owner at Redwood Real Estate Holding.

Ecodome aims to create an inspiring and efficient working environment which is sustainable and costs less by applying energy saving systems in accordance with the LEED Platinum Certificate. As on site services Ecodome is to provide a whole array of amenities, such as an in-house restaurant, a roof top terrace, bicycle parking with lockers and shower room, and charging points for electronic vehicles.

Cushman & Wakefield