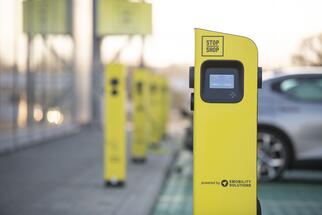 It will offer its customers a convenient and fast way to recharge their electric car. The company has been emphasizing its commitment to environmentally friendly operations throughout the region for years.
The interest in electric cars or plug-in hybrid vehicles is growing significantly in Hungary and the development of the charging station network is continuous and more public recharging points are needed. In addition to the extent of the charging network the most important problem is the speed of charging.
"The STOP SHOP retail parks are well-accessible and provide large parking lots. It is this competitive advantage that IMMOFINANZ has decided to further develop, as well as expand its existing services with electric charging stations. Customers will not only be able to shop easily, but they will also effectively use the time spent in the STOP SHOP to charge their electric car. The cooperation between IMMOFINANZ and the e-station, which aims to expand electromobility within regions and district towns," says Viktor Nagy, IMMOFINANZ Country Manager Operations for Hungary.
STOP SHOP
IMMOFINANZ manages a total of 14 STOP SHOP retail parks in Hungary. Further acquisitions and internal development projects are currently in preparation. Europe's leading retail park operator is strengthening its position in the region with further acquisitions and own developments in nearly 140 locations.
Charging during shopping
Thanks to the cooperation between IMMOFINANZ and Emobility Solutions, a modern charging network for electric cars is now also available in STOP SHOP retail parks, with 116 AC charging points with a capacity of 22 kW. During the initial period, customers can use the service free of charge, and later on, payment will be made via a mobile application, among others.
"Emobility Solutions is also committed to exploiting the potential of sustainable energy management and we are working on other related developments in further cooperation. In case of interest, we will also make the STOP SHOP charging network directly available to the customers of other electromobility service providers," added János Ungár, Executive Manager from Emobility Solutions.
"We are glad to participate in the development of the necessary infrastructure of electric vehicles in Hungary by building the e-charging station network in STOP SHOP retail parks and provided customers with more pleasant shopping by having this opportunity in the region too", added Viktor Nagy.
IMMOFINANZ