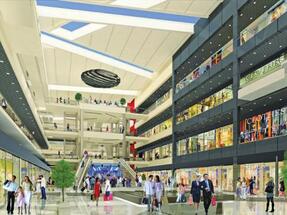 Shopping centre development activity is largely concentrated in emerging markets, with a large proportion (74%) taking place in Eastern Europe. Similar to last year, Turkey is forecast to remain the most active market with around 3.7 million sq m of shopping centre space under construction. Istanbul will be the most active development market in the coming years with 37 centres currently under construction, including Axis Eyüp AVM with a Gross Leasable Area (GLA) of 150,000 sq m, and Yeni İstanbul (GLA of 137,684 sq m). "As a comparison, Westend and Aréna Plaza have 48,000 sq m and 66,000 sq m of GLA, respectively. Nevertheless, these Budapest schemes are relatively large by Central-European measures as such "giant malls" like in Eastern Europe are not typical in this part of the continent."-commented Gábor Borbély Head of Research and Consultancy at CBRE Budapest added.

Europe's other highly active shopping centre development market is Russia (2.88 million sq m) which, like Turkey, is benefiting from strong economic growth and rising incomes. The majority of this development is concentrated in Moscow, with 1.4 million sq m of space due to open over the next two to three years.

Ukraine (789,888 sq m), Poland (750,467 sq m), Italy (665,779 sq m) and France (648,200 sq m), also have significant amounts of shopping centre space under construction. In Italy, however, development activity is slowing, which is reflected in the slowing down of the completions for the projects already under construction and the lack of new openings during the first half of 2013. For Ukraine, the space currently under construction represents 38% of its total shopping centre space, thus adding significant space to its retail market upon completion.

Across Europe, 100 shopping centres totalling 3.44 million sq m of space opened in 2012, with Spain and Turkey the most active markets for completions. Of this, 9% were extensions to existing schemes. Major shopping centre openings in 2012 included Spain's Puerto Venecia – which was an extension to an existing retail park, and the Megamall in Turkey.

2013 is on track to be an equally active year with 1.5 million sq m of shopping centre space already completed. Almost 60% of this total is in Turkey, while 10% of all space completed in H1 2013 was also extensions to existing schemes.

"While Russia and Turkey are indeed the front runners on the retail development market, we need to be more cautious when looking at Ukraine's and Spain's rankings on this list. These countries still struggle with those unfinished projects which accumulated after the crisis and now are getting again to completion phase. We cannot speak about a new boom here but rather the late impact of the economic crisis."- Gábor Borbély added.


CBRE