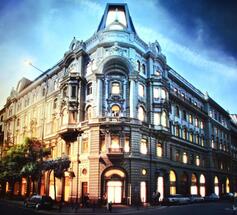 The Hungarian headquarters of an established Fortune 500 company will occupy close to 400 sqm of office space in the Hungarian capital's sought-after 5th district prime property. Horizon Development Leasing Director István Kerekes shared the reasons behind the prestigious company's decision to relocate to Eiffel Palace. He pointed out that the building's ideal CBD location, its outstanding and internationally certified technical quality and sustainable solutions, as well as its unique atmosphere resulting from the combination of its 19th century architectural elements and modern features had all contributed to the successful deal.

Eiffel Palace is also the property of choice for a wide range of new retail service providers. The ground floor area – with entrances from both the historic interior atrium and Stollár Béla Street – will be home to the St. Andrea Gastro and Wine Bar and the Eiffel Beauty Center. The Wax in the City Studio, located on the same floor, will be accessible from Stollár Béla Street.  

The St. Andrea Gastro and Wine Bar will offer culinary food and wine experience on close to 300 sqm to both tenants of the building, clients and partners, and the general public. The corner bar – with its great ambiance and wide selection of special and exclusive wines of the Eger wine region – will accommodate wine tastings, business lunches and partner meetings, all with a special flavor. Dr. György Lőrincz, winemaker of St. Andrea Vineyard and Winery, truly believes that the Eiffel Palace and St. Andrea brands are a perfect fit, sharing similar core values. They both represent prestige, excellent quality, a respect for our past and a joyful celebration of our present. 

If one is looking for a complete beauty revival during the day, there is no better place than the Eiffel Beauty Center. From hairdressing and grooming to cosmetology and manicure-pedicure, tenants and the general public will be able to benefit from the services of the 110 sqm ground floor salon. As pointed out by István Gödöny master hair stylist, the modern beauty center will offer great quality services and the comfort of proximity to the office building, the city center and various transportation options.

But beauty services do not stop here. Another 120 sqm of the ground floor retail area will host the first Hungarian studio of Wax in the City, an international chain of waxing studios already successfully operated, and appraised by clients in Germany, the United Kingdom, Ireland, Switzerland and Austria. Christine Margreiter, founder of Wax in the City, and Hungarian franchise partner Anita Kotulyák chose Eiffel Palace to set up the first Budapest studio of the successful premium service brand. They believe that the office building's great accessibility and visibility, combined with its popularity among tenants and visitors are a guarantee to build a great client base for Wax in the City's studio and distribution point of body care products.

Eiffel Palace office building - developed within 12 months by Hungarian real estate developer Horizon Development and built by DVM group - is the first commercial property in Hungary with a planned double green certification (LEED Gold, BREEAM Very Good) in CBD Budapest. Its current tenants include the headquarters of PwC Hungary, the Kővári Tercsák Dentons law firm, the British Chamber of Commerce and Business Center, Eiffel Bistro restaurant and café, and the Eiffel Palace Conference Center. More information: www.eiffelpalace.hu


Horizon