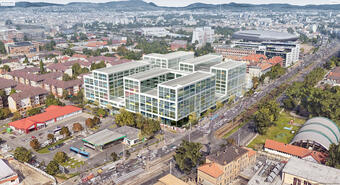 The real estate developer, listed on Euronext Brussels, bought the 19,000 square meters site under 30 Hungária Boulevard last September, on which an outstanding, green, 'A+' category office complex of nearly 72,000 square meters will be built.
'Atenor has been in Budapest's office market since 2008 and I can confidently say that it has a unique success story because all 4 finished buildings of our first project, Váci Greens, have been 100% leased and sold. The aim of Atenor is to serve its tenants fast with the highest qualities – for this challenge we selected professional contractors who work in the best quality for the exact deadlines. The best example of this is Building D of Váci Greens where construction works started in March 2017 and 10 months later, at the end of January 2018, the building welcomed its first tenants. According to the practice of the last years, Atenor finished the tenant fit-out works in 3 months which counts as a remarkable benefit on today's market', said Zoltán Borbély, Country Director of Atenor.
'With our new development, Aréna Business Campus we further strengthen our Hungarian presence. Our project, started on Hungária Boulevard will consist of 4 office buildings, with outstanding and extended green areas.' – explains Zoltán Borbély.
The location of Aréna Business Campus is excellent, the real estate is 3 minutes' walk to the Stadionok metro station. It is situated near to Aréna Mall Shopping Centre, furthermore the in-house services, the working and recreational spaces will have a major role. 'Since its foundation, Atenor has been working on the development of real estates which increase the appeal of cities. We are designing an office complex on Hungária Boulevard, which is tuned to the necessities and desires of inhabitants and users of today's age and of future generations as well. Our international expertise and experience enables us to construct our buildings in close cooperation with the authorities, and in a symbiosis with the environment and residents" – points it out Zoltán Borbély.
Atenor