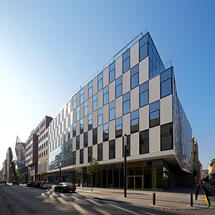 Erste Bank increased its original EUR 7 million line of credit for the project as the occupancy rate of the Corvin Corner building, officially opened in December 2014, has already reached 100 percent. Corvin Corner is a building in the third office building phase of the Corvin Promenade project. Valued at EUR 16 million, the building offers over 6,000 square meters of leasable space. The category "A" office building, located on the corner of Futó and Práter streets in Budapest, Hungary, has received the BREEAM certification indicating the highest level of energy efficiency.

The largest tenant at Corvin Corner is EPAM. The company, one of the world's leading software developers, rents over 5,000 sqm of office space. EPAM houses its Budapest operations in two office buildings at the Corvin Promenade, they have been a tenant at Corvin One since 2010. At the Corvin Promenade nearly 1,200 people are employed by the company.

"The credit agreement with Erste Bank demonstrates not only the success of our Corvin Corner project, but it also proves the stability of Futureal Group. In addition, it contributes to our efforts to focus on further office development projects" – said Gábor Futó, founder of Futureal Group.

"Erste Bank and Futureal Group have been close partners for 10 years. During the course of our cooperation, the bank participated in financing several successful office development projects which shows the Bank's strong commitment to financial partnership and value creation" – said Zoltán Balázs, head of Real Estate and Structured Finance at Erste Bank.
Futureal