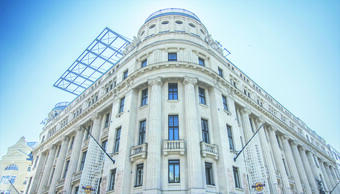 Multiple architecture and development awards, premium tenants attracted, high occupancy rates reached in record time, never-before-seen public acclaim, intense wave of international investor interest. These are only some of the pages in the success story of Váci 1.

The current occupancy rate of the building is 84%, with advanced negotiations for the rest of the available spaces. Váci 1 was H&M's first choice for one of its largest and most exclusive flagship stores worldwide, as well as its headquarters and showroom. Restaurants in the building include Hard Rock Café; Szamos Gourmet Palace and the St. Andrea Wine & Sky Bar on the 6th floor rooftop (to open in Spring 2017, offering the most spectacular views of Budapest). Office tenants are H&M, DVM group (the company offering the most comprehensive range of integrated building services in Hungary) and international online game developer Play'n GO.

Váci 1 was originally constructed in 1915 to serve as the headquarters of the first Hungarian Bank, but was also home to the Budapest Stock Exchange later. In 2016 Horizon Development's ambitious architectural revitalization concept got implemented here, with an authentic restoration of the heritage elements of the neoclassicist palace, as well as the aesthetic, structural and functional optimization of its modern spaces. The building is the recipient of the 2016 European Property Awards in two categories: Best Commercial Redevelopment and Best Mixed-Use Architecture, with further nomination for the global prize.

Horizon Development's managing partner Attila Kovács MRICS commented on the deal from the developer's perspective: "We believe that this transaction was a true win-win for both parties. By choosing Váci 1, our investor partner enriched its portfolio with a rare jewel among prime Budapest properties, while the tenants gained a Landlord whose reputation is only associated with customer-focus and a service-minded attitude. Our company, Horizon Development, continues to be trusted with the Property Management mandate of Váci 1."
The Seller was legally advised on the transaction by Lakatos, Köves & Partners. The Buyer was represented in the deal by Dentons.

Horizon Development