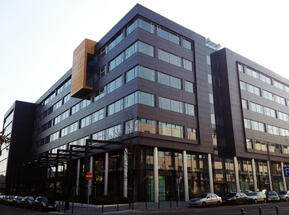 Listed on the New York Stock Exchange, MSCI is located in 22 countries around the world and employs over 2,700 employees. Its product and service portfolio includes indices, portfolio risk and performance analytics, as well as governance tools from a number of internationally recognized brands (Barra, RiskMetrics, IPD and ISS), offered to 7,500 clients worldwide, ranging from large pension plans to boutique hedge funds.



MSCI was looking for a new location for its Budapest head office with expansion opportunities, innovative technical solutions, efficient floor plates and a great indoor environment. Green House met all these criteria and even exceeded the client's expectations with its beautifully landscaped garden, small pond and green restaurant.



Reflecting on why Green House was an obvious choice for MSCI, Ákos Janza Executive Director emphasized: "This decision represents MSCI's continued commitment to its presence in Budapest, our dedication to excellence and our intention to provide for further growth at our firm. We feel that Green House will improve our employees' working environment and will also enable us to offer the highest service levels to our global clients."



Grzegorz Strutynski, Managing Director of Skanska Property Hungary, welcomed the tenant, and gave an insight into the philosophy behind the 'Workplaces by Skanska' concept: "We warmly welcome MSCI, a leading international product and service provider, in Green House. When we developed Hungary's greenest office building we kept in mind how important the working environment is to both our tenants and their employees. We did not just build an office; we created modern workplaces in a green setting. By listening to our customers and their needs we managed to develop workspaces that support each of our tenant's organization. Our healthy indoor environment reduces sick leaves and enables higher productivity, which means better business and financial benefits for our customers. We are convinced that MSCI will also benefit from this great combination of green technology, human-focused placemaking, and cost-efficient solutions."



Green House is currently 91.22% leased 8 months after the building's handover in December 2012. The 17,800 sq m property still offers units on various floors.


Skanska Property