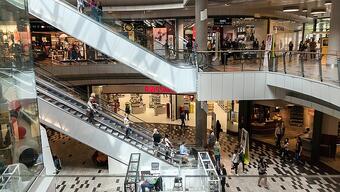 The new analysis examines six major retail markets; China, America, Spain, Germany, Italy and the U.K and focuses on projected retail space requirements over the next five years within the key sectors of Grocery, Apparel and Footwear, Health and Beauty, and Home and Garden.
CBRE predicts that growth in Health and Beauty space requirements will outpace other sectors with China to witness 8.1% growth, followed by Germany (4.5%), Italy (4.2%), the U.K (1.7%), U.S (1.6%), and Spain (1.1%). Growth across this sector will continue to be fuelled by technology and innovation paired with a rising demand from consumers who are investing in themselves.
Natasha Patel, Director, Global Retail Research, CBRE, comments: "Technology, innovation and social media have been key to the Health and Beauty sector's success and will remain an integral part of its strategy in the years ahead. We're seeing brands introduce virtual make up screens, allowing consumers to visualise what products look like before committing to a purchase, and creating an experience that draws consumers into the physical store. The sector has seen brands create a joined-up omnichannel approach with their social media networks and physical store, so much so that there is evidence of brands using analytics of their social media profiles to drive their store leasing strategy."
The data predicts the Home and Garden sector will witness significant levels of growth in space requirements – in China an extra 20.4% of space will be required, followed by Spain (2.3%), Italy (1.2%) and Germany (0.8%). The Apparel and Footwear and Grocery categories are also expected to see steady growth across many markets – in Europe, Spain leads in both categories with a 2.2% and 1.2% rise in space requirements respectively.
"Although the retail sector is in a transformational stage, the physical store will remain a vital driver of customer acquisition, retention and revenue. Our research demonstrates that despite an increase in online sales, consumers prefer the omnichannel retail experience, and will continue to use the store as a critical part of inspiration, education, testing, and engagement." David Close, Head of EMEA Occupier transactions at CBRE said.
Hungary
"Similar trends can be seen in Hungary with numerous on-line retailers such Notino, Mall.hu and ALZA.hu having opened bricks and mortar shops in the past 2 years. The Health and Beauty segment in Hungary has experienced above average growth rates with 4 out of 24 of the new Retailer market entrants into Hungary being int this segment: NYX, Inglot, Jo Melone and Notino", Anita Csörgő Head of Retail at CBRE Hungary added.
CBRE