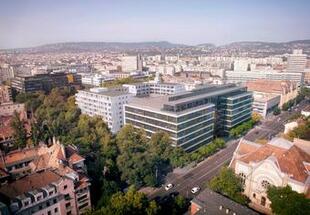 Vagheggi, a brand with a proven commitment to sustainability, opted to relocate its operations to Codic Hungary's BREEAM Excellent pre-certified, environmentally friendly office building. The new 300 m2 showroom will serve a dual purpose: it will accommodate Vagheggi's over 30 professional training programs for beauticians, as well as the brand's premium retailing activities.
Founded in 1975, Vagheggi is a distinguished, benchmark Italian brand for professional phytocosmetics, and it has also been present in the Hungarian market for over 15 years. In 2013, the Italian mother company decided to open its first – and, to date, only – foreign subsidiary in Hungary. Vagheggi has achieved 20-30 percent annual growth in the last three years respectively, with 15-20 percent revenue growth planned for 2021. The brand excels in producing premium skincare products by combining traditional natural cosmetics with the most advanced technology and research. The opening of the exclusive 300 m2 showroom in Green Court Office allows Vagheggi to step up its local business by making its nearly 400 products - previously only sold through beauticians - available for a wider Hungarian, and by relocating its popular professional training program for beauticians to a new facility.
"I am honored to be in charge of Vagheggi in Hungary. In the past few years, we have created a nationwide distribution network that serves hundreds of beauticians all around the country. Now the time has come to take a good look into the future and move to Green Court Office, a new high-end real estate project by all standards. We have high expectations and a lot of new projects in the pipeline, besides the organic growth of the business that we experienced despite the pandemic. We are glad that Codic Hungary shares the same vision and perspective." – commented Alessandro Farina, managing director of Vagheggi Kft.
The managing director said Vagheggi produces its plant-based phytocosmetic products with an utmost respect to animals and the environment, both for retail and professional use. The company applies a "fair-trade" policy in sourcing active ingredients, and also remains committed to the purity and high quality of the raw materials used. All Vagheggi phytocosmetic products are 100% "Made in Italy", and the product containers are also eco-friendly.
So, the fact that state-of-the-art technical solutions meet with uplifting sustainable architecture in Green Court Offices was a key driver behind the brand's decision to move into the BREEAM Excellent pre-certified, Class A facility. Its remarkable green concept and outstanding location in the new focus point of the Váci street office corridor are considered complementary to the environment-friendly, premium quality Vagheggi represents.
"We are thrilled that Vagheggi chose us, as we came to realize that we both share decades-long commitment to excellence and sustainability. We place the well-being of people in the center, whether they experience our environmentally friendly developments or Vagheggi's green phytocosmetics." – said Christophe Boving, managing director of Codic Hungary.
Ibolya Csiernik, Leasing and Marketing Manager of Codic Hungary pointed out that Vagheggi's decision confirms that there is client demand for sustainable and high-quality real estate developments even during the pandemic. "Our office tenants and residents in the Green Court Residence can enjoy a great selection of services, to which we are delighted to add a premium Italian cosmetics brand." – she added.
Green Court Office is developed in partnership with Pesti Házak Zrt. and Picton Group AG. In this transaction, Colliers International represented Vagheggi.
Commenting on the deal, Tim Hulzebos Managing Director of Colliers Hungary said: "It is amazing to see how Codic and Vagheggi share the same high level of ambitions, aspirations and business principles, so Vagheggi choosing Green Court Offices as the location for its pilot store in Budapest seems just logical."

Codic Hungary