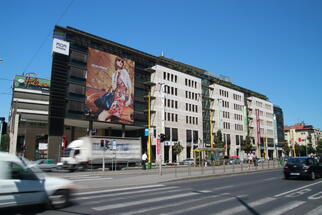 The 44,000 sq m mixed-use MOM Park (shopping centre and office), the 27,400 sq m West End Business Centre and the 13,300 sq m EMKE office building are parts of the portfolio. The long-term successful cooperation between AEW Europe and JLL started with the leasing mandate for the office buildings a few years ago, long before the sale of the portfolio.

Ferenc Furulyás, Managing Director of JLL Hungary commented the transaction: "The sale of the AEW portfolio is of outstanding importance for the Budapest commercial real estate investment market as it is a clear sign of renewed interest from international and particularly American investors for large tickets and portfolio transactions. This deal is a milestone that proves that the positive momentum on the investment market is getting stronger due to the improving market fundamentals in Hungary."

The renewed investor appetite for Hungarian assets is due to improving economic fundamentals, the strong leasing market and the relative pricing compared to the other markets in the CEE region and in the European context. "We have been working on this transaction for more than a year but we finally reached the finish line. This transaction is a clear signal for the investment community of the return to Hungary of international institutional equity along with attractive debt terms" added Benjamin Perez-Ellischewitz, Head of Capital Markets.

Specialists at JLL say that the positive momentum of the real estate investment market in Hungary is getting stronger. The total transaction volume in the first half of 2015 reached some €280 million, in line with the volume recorded in the corresponding period of 2014 but 2015 annual investment volume is expected to exceed the 2014 volumes by 20-30%.
JLL