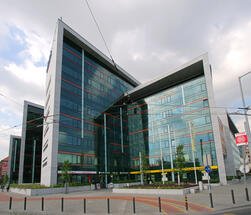 In addition to renewing their lease on their solely occupied Kerepesi Tower, extending to 8,112 sq m, Vodafone acquired another circa 5,600 sq m on the entire 4th and 5th floors of the Hungaria & Szoreny Towers. This extension provides Vodafone with a contiguous office solution to their existing area by which to expand their SSC function in the building.

As a result of this transaction Arena Corners of circa 29,000 sq m is now 95% let, with circa 1,500 sq m of retail units available on the ground floor areas.

Billy Davidson Group Property Director at Vodafone added: "This transaction clearly demonstrates Vodafone's long-term commitment to Budapest and Hungary. The location and layout of Arena Corner works well for Vodafone and we are looking forward to the continued successful operation of our SSC function at the building.''

Adrienn Lovro Country Manager for Hungary & Romania at CPI Group said: "We are delighted that Vodafone has extended their lease and acquired additional space at Arena Corner, and greatly look forward to continuing our strong business relationship with them in the future. In our Hungarian portfolio this is an extremely important transaction and the fact that it makes the office element of the building almost 100% occupied is a huge bonus.''

David M Johnston Associate, Head of Office Agency at Cushman & Wakefield in Budapest, commented on the transaction: "We undertook a robust and rigorous search of the market with Vodafone, however, Arena Corner was quickly identified as the preferred option owing to the available flex required to accommodate Vodafone's short-term growth. This transaction reinforces the continued recovery of the Budapest office market, driven by large international occupiers who recognise the fundamental benefits a Budapest office location can provide, and who are continuing to expand their presence in the city.''

Arena Corner, the A class building complex extends to circa 29,000 sq m office and retail spaces on 8th floors in 3 office towers with direct connections to each other, with large efficient spaces ideal for operation of shared service centres. It is situated in the sport and business hub of the city. The development faces the Budapest Sportaréna and the Puskas Ferenc Stadium. Arena Corner is well supported by public transportation and the building can be reached via Hungária körút and Kerepesi út from the city centre.

CPI Group (Czech Property Investments) is the owner of CPI Hungary., former Ablon. In 2013 CPI also acquired Endurance Fund and become one of the most active investors and developers in CEE region and manages over 610,000 sq m of retail space, 407,000 sq m of existing office space, 17 hotels with 8,000 beds and 212,000 sq m of space for light industry and storage. With over 12,600 flats, it is the second largest provider of rental housing in the Czech Republic. CPI who became one of the largest real estate investors in Budapest also own Gateway Office Park, Business Center 99 (a.k.a. BC99), M3 Business Center and Budaörs Office Park (BOP) in Budapest.


Cushman