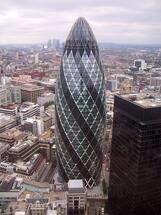 Prime rents in London's West End have risen 4.6% over the year but are still 13% behind the 2007 peak.  However, further positive rental growth is anticipated against a backdrop of limited supply and expected development completions in 2015.

Cushman & Wakefield's head of London markets, George Roberts, said: "With a true global appeal, London continues to attract major international businesses looking to be based there, often using it as a springboard into Europe.  As economic conditions in the UK further outperform, there will be heightened demand for London office space in 2015 from across all sectors.  With supply heading downwards, further rental growth is expected."

Global office rents rose 7% in 2014, more than double the circa 3% annual compound increase since 2010.  Overall, last year saw foundation cities from around the world reaffirm their position in the global hierarchy at the expense of smaller, peripheral markets.

Challenges remain for occupiers, not just in terms of property fundamentals, but also geopolitical risks which some are viewing with understandable caution.  These factors are being leveraged by some occupiers to negotiate more flexible lease terms or lower rents, particularly in locations with oversupply.


REGIONAL RANKING: EMEA

Cushman & Wakefield's head of EMEA offices, James Young, said: "A key theme of the European office market is the low level of development delivered over the last two years.  Despite a recent uptick in construction activity, the revival is supply-led as occupiers continue to search for quality space that provides the right environment for staff in a highly competitive employment market."

However, there is some divergence in under-supplied markets such as London – in order to secure space some occupiers are moving sooner than expected to secure the larger, more flexible floorplates they need.  As quality availability erodes, secondary space is becoming a more realistic option for some and while rents here have been reasonably static an upward swing is expected over the next 12 months.

Further to London cementing itself as a true gateway city at the top of the global ranking, Moscow places second on an EMEA-specific basis, despite seeing a 17% decline in prime rents linked to imposed sanctions after the annexation of Crimea and the ongoing civil unrest with Ukraine.

Paris rounds out the top three in EMEA, but also saw rents decline by -6.3% and occupancy costs by -3.9% over the year.  Dublin tops the table for the highest percentage growth in 2014, rising six places to 19th position in the global ranking.  Meanwhile, Dubai and Doha recorded rises in occupancy costs and jumping four and three places to become the 11th and 13th most expensive cities in the world for offices respectively.
Cushman