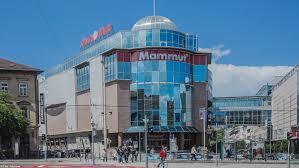 After launching a 5-room multiplex cinema for 880 guests in Mammut II. in December 2019, Cinema City has now opened an additional 5-room multiplex cinema for 772 guests, plus an extra 3-room VIP unit for 185 guests on the 3rd floor of Mammut I, each room equipped with ultramodern movie technology.
One of these VIP rooms in Mammut I. have the largest capacity (89 people) and the largest screen (63 sq m) in Cinema City's network in Central and Eastern Europe. Cinema City VIP offers special cinema experience in either 2 or 3 dimensions with a complete buffet menu of hot dishes, salads and desserts and unlimited soft or alcoholic drinks available.
"Focusing on comfortability, design and quality services, while continuing to keep the safety measures implemented to ensure the health and safety for all who enter the mall, Cinema City offers best of class movie experience for families, couples, friends and companies. We are happy that from now on both our NEPI Rockcastle Shopping malls in Hungary accommodate VIP cinema units. We strongly believe that this added value further enhances the overall visitor experience in our Malls." - said Erna Balla, Operations Asset Manager at NEPI Rockcastle, Hungary.
"Due to the VIP success, Cinema City VIP in Mammut I. is an excellent choice for those seeking something special. The on-site fresh food, created by a chef, the unlimited buffet menu, the cozy lobby and the leather armchairs with adjustable back and footrests provide special comfort, supporting the all-inclusive cinema experience". - said Andrea Buda, Marketing and PR Director at Magyar Cinema Kft.
"Cinema City focuses on providing the best possible service to all visitors not just in the newly opened movie theater in Mammut, but in all of its movie theaters, therefore we have introduced a set of health protocols that keep our visitors safe. Examples are, keeping vacant chairs between families, obligatory usage of facemasks for customers and the staff as well hand sanitizers are available everywhere for everyone. We also urge online ticket purchase, and instead of self-service system in the VIP, our staff members serve our visitors directly. Until the expected arrival of some big blockbusters in December (such as Wonder Woman 1984 and Death on the Nile), we are mostly screening locally produced films and movies by independent film studios." added the expert.
Cushman & Wakefield is the Property Manager of Mammut Shopping and Entertainment Center.
Cushman & Wakefield