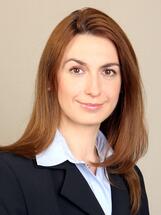 Margaréta Mészáros has been with CBRE Hungary for a decade. Based in the Budapest office, Margaréta has performed a central role in building up the Valuation and Capital Markets departments. Between 2005 and 2008 she headed both departments, later specializing in Investment. From 1st March 2014 she returns to the Valuation department. She is an experienced valuer, with proven track record across all market sectors: preparing single asset, portfolio and development valuations for loan financing, internal auditing and acquisition purposes.

Margaréta holds a Degree of Master of Science in Architecture from the Technical University of Budapest and a post-graduate Diploma in Real Estate as a joint award of the University of Economics in Budapest, the Technical University of Budapest and the Nottingham Trent University. She has qualified as a Member of Royal Institution of Chartered Surveyors.

Graham MacMillan, originally from Scotland, joined CBRE Hungary as a Senior Valuer in 2008 and has successfully led the team since 2009. Since 2011 he also ran CBRE's valuation business in the region, acting as a point of contact for the regional heads of CBRE's client base as well as liaising with the group's other European and International valuation departments.

"Although we are sad to see Graham leave Budapest, we are proud of his promotion to London and of all the great work he has done in Hungary. I am delighted to appoint Margaréta to lead the Valuation department; our clients rely on us to deliver high quality, consistent, market leading valuations, and she is a highly qualified expert with thorough market knowledge who will continue to serve our clients well and build our services even further." – commented Adrienne Lodge-Konthur, Managing Director of CBRE Hungary.


CBRE