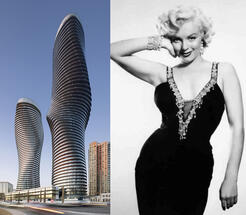 The total floor area of two towers is 85.000 m2. Despite the fact that the towers are residential, they resemble a private club more: apartments are decorated with luxury undreamed-of by middle class. Tenants have an opportunity to swim in indoor/outdoor and even whirl pools, to relax in spa-center and sauna. A huge gym is equipped with halls for squash, Pilates, aerobics and weight-control center. One can manage his sport schedule with an in house trainer and activity director. For those who aren't keen on active lifestyle there are also opportunities for nice leisure: billiard hall, card room, private cinema, barbeque area, media center and three ballrooms for big parties. Also there are 6 floors of underground parking so that lodgers would feel comfortable.

56 and 50-story Absolut towers (179.5 m and 158 m tall) are constructed regardless of all "skyscraper-building" rules – the towers are like two spirals twisted at 209 degrees. The southern tower is much narrower in the middle (in the waist), while the northern one becomes wider. Owing to this many people divide the towers into genders, where the southern is a coquette and the northern – a brutal man.

Locals also call the towers Marilyn Monroe buildings, having in mind the voluptuous curves of the most famous blonde. The towers were included in the list of most sexy buildings of the world because of their shape. And even the address of the towers has something tender and tempting in it – 60 Absolute Avenue.