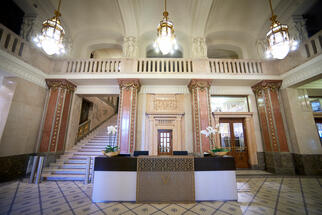 Mastercard's office choice could not be more appropriate when it comes to architectural associations and financial legacy. Váci 1 is a UNESCO World Heritage listed building – originally constructed between 1911 and 1915 – that was specifically built to serve as the headquarters of the first Hungarian Bank (Pesti Hazai Első Takarékpénztár), and later housed the Budapest Stock Exchange during the period of 2005 – 2015.

As Attila Kovács MRICS, Managing Partner of the developer Horizon Development pointed out: "these neoclassicist, historic walls, marble columns, stained glass windows and ornate decorations all communicate strength, stability and financial security, the message that our tenant also found fitting for their core activities and quality services. Beyond the architectural legacy of the authentically restored historic building, its Central Business District location, great accessibility, and modern office spaces fitted out in line with 21st century sustainability criteria were also quintessential for the tenant."

Endre Eölyüs, Country Manager for Hungary and Slovenia at Mastercard reflected on their choice of Váci 1. "In the Váci 1 commercial building we found ample, modern office space that fits our needs and expectations. Central location was key to us, and having sufficient space for our staff was also one of our top considerations. We are proud to welcome our clients in a building that harmoniously combines historic spaces and modern architectural elements, and served as the home of such important institutions as the first Hungarian bank or the Budapest Stock Exchange."

The Client was represented by Cushman & Wakefield during the leasing transaction. David M. Johnston MRICS, Partner, Head of Office Agency commented: ''There is no doubt that Váci1 is one of Budapest's most iconic buildings. It is testament to Horizon Development for having the vision to refurbish the property to such a high standard and bring it up to modern day standards, whilst respecting its original design and appearance. I am delighted that Mastercard selected Váci1 for their Budapest operations, and I am confident that the building will serve as the perfect location by which to enhance their core business.''

The owner of the building, Munich-based global real estate fund manager group GLL Real Estate Partners also welcomes Mastercard, a prestigious international tenant in its newly acquired prime asset belonging to its Budapest portfolio of seven class 'A' office buildings.

Váci 1 is a design-and-build project of DVM group, with its design, project management, environmental consultancy and construction units all playing an important part in the revitalization of the building.

The current occupancy rate of Váci 1 is 92%. 1,050 sqm of office space is still available for lease on the 4th floor. More information: www.vaci1.hu
Horizon Development