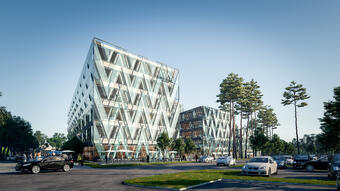 The planned project demonstrates the process frequently emphasized by professionals that - in addition to Budapest as a major location - the country's major cities play an increasing role when international companies expand their locations; and the city of Debrecen - due to the availability of high quality labour force paired with excellent value for money - offers a perfect location for companies with international background, primarily for the SSC/BPO sector.
"There is a growing interest in Debrecen on the SSC market. In February 2017 Debrecen won the title of the "Best Emerging City of the Year" in this category, awarded in Warsaw at an international conference. Awarding this prize obliges us to offer the best possible conditions for companies choosing Debrecen. Forest Offices Debrecen will assist achieving this objective." - said László Papp, mayor of Debrecen.

As a speculative development, the Class A Forest Offices Debrecen - due to its modern design and technical content - is expected to be a prominent factor in the new business district of Debrecen. The building consists of three separate wings on 5 floors, with a total of about 22,000 square metres of flexibly divisible office space and 200 parking spaces. The building complex is constructed using environmentally friendly solutions, bright interiors, a green roof as well as architectural and engineering solutions focusing on efficiency, according to LEED Gold certification.

The location is only 10 minutes from the city centre; the green environment and the roof terraces will provide comfort for the employees, while various services, like restaurants and cafés in the area will offer convenience.

"We are proud to participate in the implementation of this speculative office development - so far unique in secondary cities - and to cooperate with the city of Debrecen. A regional trend has been observed that international service providers no longer plan to place their centres only in capital cities. The effect of this trend is increasing in Hungary, and that is why we believe in the success of the project." - added Miklós Ecsődi, Associate Director of Occupier Services at Colliers International Hungary.

Source: Colliers International