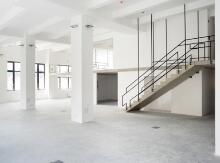 The building - which used to be the Goldberger textile factory from the famous and noble Goldberger family - now offers creative modern loft offices with gallery.
Divided over five floors offices are available from 212 up to 2,500 square meters. The light offices have the tremendous internal height of 6 meters, providing special space for its future tenants.
The location is in the nice and quiet part of Lajos utca (126-130) just off the main road. In the vicinity you can find shops and restaurants, whilst the HÉV, number 9, 11, 29, 86, 160, 260 bus and tram 1 are just minutes away.
The developer states "We have chosen to develop in this area and for this type of building due to the increasing popularity in the search for creativity inspiring and tranquil offices".
Source: Colliers International