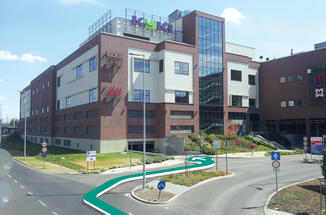 Péter Török graduated in 2007 at Szent István University YBL Miklós Faculty of Architecture and Civil Engineering in Engineering Management, specialised in Real Estate development. He has 9.5 years of experience in the Hungarian real estate industry in the field of Asset Management. Previously worked for Allianz managing the company's real estate portfolio in Hungary and CIB Bank where he was responsible for the sales processes and asset management of the bank's various repossessed commercial real estate portfolio throughout Hungary.
Orsolya Horváth worked as an advisor in Transaction Advisory Services at Ernst and Young for 2.5 years. During her career at EY she gained experience in numerous buy-side transactions in various industries, and also took part in several successful sell-side lead advisory projects. She studied at the Corvinus University of Budapest and gained two master degrees, in Corporate Finance and Business Development. Through a scholarship she also took part in the MBA program of University of Louisville in the USA.
Colliers' Investment Services has closed an active and successful 2016, participating in major investment transactions on the Hungarian market. The Hungarian team represented the vendor in the sales transaction of Park Atrium - the iconic headquarters building with 25,450 sq m of GLA leased to Deloitte, ING and Roche for a price in excess of EUR 50 mln. Colliers also represented the vendor, Skanska in the recent sales transaction of Nordic Light office building with 26,200 sqm of GLA, where the value of the transaction was €67 million. Overall, Colliers International advised on 6 commercial investment transactions during the course of 2016 making the firm as the leading advisory business in Hungary.

"With the increasing interest and appetite towards Hungary including all asset classes, I believe that the two professionals joining the Investment Team will help Colliers to further increase our market share and strengthen our position as market leaders." – said Bence Vécsey, Head of Investment Services at Colliers in Hungary.

Source: Colliers International