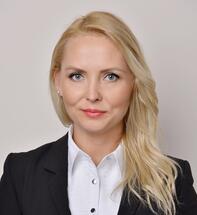 Krisztina Deák Major joined JLL in 2016 as a senior consultant supporting the company's successful operation in landlord representation. From 2019 January, as head of landlord representation, her responsibilities include liaising with major developers and continuously monitor their portfolios. The current office portfolio of 309,000 sq m represented by JLL, Krisztina's division is responsible for representing BudapestOne Business Park I., Exchange Palace, Green Court Office, Liberty office building and many other buildings in the downtown. Further, she performs professional consultancy work for JLL's global, and local clients, she acquires landlord consultancy assignments and manages existing and new mandates. Her promotion enables a more effective work of the office leasing team.
Further, Kristóf Kovács got promoted to consultant after having spent 1,5 years in the department, he is cooperating with landlord representation by helping clients to find their suitable office space, to contract or renegotiate their lease agreements. Also, Barbara Huszár, former researcher has changed between departments, as a tenant representation consultant now she can utilise her 2,5 years career in representing local and international JLL clients.
"Overall, we can say that by 2019 all junior advisors have been promoted in the leasing team, so the Office Group is currently working with a total of 7 experienced consultants, including 5 senior colleagues. Last year was dominated by pre-lease agreements, three of the five biggest contracts were signed in buildings currently under construction. We are proud that out of these pre-lease agreements of over 10,000 sq m two tenants were represented by JLL. Thanks to the year-round real estate market records, the advisory profession has a peak in Budapest and still has great potential." – said Dr. Peter Würsching, head of leasing at JLL.
JLL