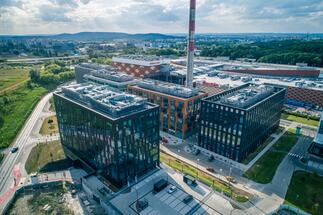 Tenant satisfaction in the complex remains very high, and due to strong and stable demand both in the complex and in Krakow, TriGranit is preparing the delivery of two further office projects in the B4B complex, Building I and Building J, each with 10,000 sqm GLA.
The 9 855 sqm GLA Building H with the highest building standards has received the occupancy permit at the end of April 2019 and has just been officially handed over, extending the Bonarka for Business office complex to over 75,000 sqm modern office space. The compelling office building with a façade half made of glass has received the BREEAM® certificate at the 'Very good' level. With first tenants – City Break, New Work and Herbalife Nutrition – the building reaches an occupancy level of 45%. As new tenant and first canteen in the whole B4B complex, City Break has opened its 400 sqm restaurant on the ground floor, while New Work, one of the Top 3 Service Office Providers in CEE, has signed their office lease agreement for ca 2,800 sqm.
"I am very pleased with the launch of Building H, the 8th building in our Bonarka for Business office project in Krakow which now consists of close to 75,000 m2 GLA. We are benefitting from the strength of the Central and Eastern European economies and healthy office market dynamics. We will be launching this year the construction of further two office buildings in the B4B complex, for a total of 20,000 sqm GLA and the first phase of Silesia for Business in Katowice with 26,000 sqm GLA this summer. The construction of Millennium Gardens office development in Budapest with 37,000 sqm GLA is progressing well with completion anticipated in Q2 2021. With these projects, TriGranit's office pipeline is close to 100,000 sqm GLA in three CEE cities. "- said Tom Lisiecki, Chief Executive Officer of TriGranit.
Bonarka for Business Tenant Relationship Program
Two years ago, the Bonarka for Business Tenant Relationship program has started at the complex with a unique aim of helping the employees to get to know each other, creating communities around the complex and for overall tenant satisfaction. Since its start, the program has grown popularity, offering various after-work activities and regular larger and smaller, entertaining and community building events for the B4B employees. In the framework of the program this summer, people could participate in the B4B summer events and regular coffee events. The food trucks and coffee bus with a good quality coffee are present regularly. As part of the program, the newest initiative is the easily accessible Book Point with various books, where all B4B employee can take any book from the shelf for free and replace it with another one. Currently, the community of B4B on Facebook counts more than 1,400 people.

TriGranit