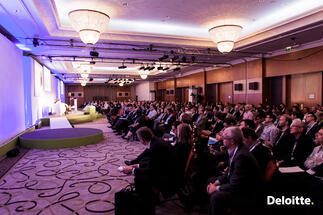 The two-day conference was opened by Szijjártó Péter, State Secretary for Foreign Affairs and Trade. In his opening speech, the State Secretary underlined the commitment of the Hungarian government to secure Hungary a dominant role in the European SSC sector and so attract high value adding investments into the country. The Hungarian Investment and Trade Agency currently manages 25 SSC projects which, if successfully implemented, might create further 7000 jobs, added the State Secretary.

As HITA's deputy director Dr. Kerekes György explained, "A growing number of SSC investors have contacted us for the past 12-18 months and companies already present in Hungary have also been expanding."

Tóth Vazul, Consulting Director of Deloitte Hungary also pointed out the dynamic expansion of the sector and explained that SSCs previously engaged only in financial services for the most part are now fulfilling more complex—HR, IT, marketing—functions. According to Tóth Vazul, it is not by chance that this year's event is the largest of all. The significance of SSC has grown all across Central Europe, and particularly in Hungary.

This year's conference is guided by the slogan "Be Inspired". Apart from providing useful insights about the latest trends in the SSC sector, the conference will also open up the opportunity to establish personal contacts with the representatives of companies planning to set up SSCs in Hungary. The event attracting almost as much as 700 financial and—this year also HR—executives might direct the attention of a number of potential investors to Hungary. The executives of worldwide leading companies such as Avis Budget Group EMEA, British Telecom, BP, Diageo, JT International, Oracle, Pfizer, Philips, Rolls-Royce, Shell, Siemens and Vodafone will visit Budapest for the conference.


SSC sector in Hungary
• Since the appearance of the first Shared Service Centers in the 90s, the sector has shown a dynamic growth. Currently, there are about 80 SSCs in Hungary operating with over 30,000 employees.

• Thanks to the investment friendly economic environment, the highly qualified and multilingual workforce, and the extensive experience in the SSC sector, Hungary remains an attractive location for those who wish to invest.
HITA