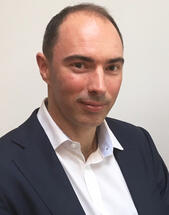 Byron Tudor joins from Goldman Sachs International's Corporate Services and Real Estate Division where he spent the last 10 years, including the last five as Head of Transactions. This involved establishing and delivering the firm's real estate strategy, with a particular focus on the EMEA region.
As part of the continuing investment in its PSC solution, Cushman & Wakefield has also secured new premises, to which it is scheduled to move at the beginning of October 2017. The new PSC is located in the Studium office building, at Czuczor utca 2-10, Budapest IX, a vibrant mixed-use location in the city centre, close to Corvinus University and many cultural spots.
The first phase of the new office will accommodate up to 150 professionals, providing services including: strategic consulting; integrated facilities management; project & development services; portfolio administration and transaction management. From Budapest, Cushman & Wakefield's GOS team is both shaping the future strategy of clients' portfolios, as well as providing day-to-day management services.
Richard Middleton, Head of Account Management & Client Services, EMEA, Cushman & Wakefield, said: "We are always keen to bring in the most talented people into occupier services and Byron is firmly in that category. He was the obvious candidate to lead the rapid expansion of our Portfolio Services Centre team in Hungary which will have 100 highly-skilled people by the end of this year, having only had 15 eighteen months ago."

Byron Tudor, Head of Portfolio Services Centre, Budapest, Cushman & Wakefield, said: "I am delighted to join Cushman & Wakefield to lead an expanding Portfolio Services Centre team providing an increasing range of services to clients in the region. We are scaling up rapidly and I am looking forward to ensuring the process is successful."
Across EMEA, Cushman & Wakefield's GOS team works with more than 200 clients in 43 countries across 100 offices.
Cushman