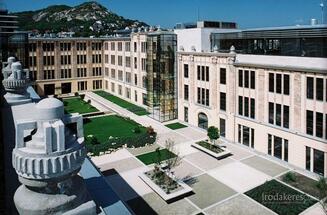 With its unique appearance and modern, environmentally conscious operation, Dorottya Udvar is equally attractive to both newcomers and existing tenants. In the first half of 2015 Hungary's leading fleet and vehicle operator, LeasePlan committed itself to the office building for several more years. "We believe that our staff can efficiently and dependably serve our clients. The quality of the building, the tranquility of inner garden and the supply of services all contributed to the decision to keep Dorottya Udvar as the group's Hungarian headquarter in the years to come." - said Ágnes Dávid, the HR Manager of Lease Plan Hungária Ltd., in connection with the extension of the lease of the nearly 1,700 square meters of rental area.

The list of Dorottya Udvar's innovative tenants becomes longer with the addition of a major industry player this year. One of the world's leading automotive supplier, MSX International has also chosen Dorottya Udvar as its new seat, and signed a long term lease for more than 1,100 square meters. "We are facing a significant expansion, and it is important for us that the office building is a suitable environment and has flexible floor plan options and high-quality services. Dorottya Udvar fulfilled our expectations maximally." said Zsolt Várkonyi Sales & Operations Manager at MSX International Hungary.

In addition to the tenants, independent experts also recognize the virtues of Dorottya Udvar: the office building received "Excellent" rating in the BREEAM classification of buildings in the "in use" category in the spring of 2014. Dorottya Udvar is unrivalled on the Hungarian office market, since no other operating office building has received such a high rating in Central Europe.
Dorottya Udvar