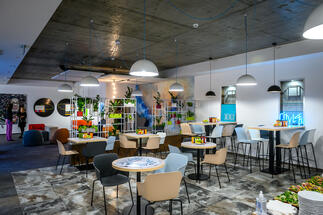 Located in the IX district, the office building is not only trendy, but also particularly cost-efficient and low-operating costs, with a roof terrace and inner courtyard, as well as community spaces. At the opening of the building, and exhibition called Immerse City was presented in the lobby, which aims to relax the classic office atmosphere with contemporary art,
The easily accessible CityLab office building was recently born as part of a building modernization project invested by DEFACTORING Zrt. In the course of the development, the office building was equipped with solar panels, heat pumps, automatic opening sensors and modern smart devices, with maximum attention to sustainable operation. All this allows tenants to rationalize their costs to a large extent. This will allow the office building, which offers high technology but low running costs, to rent its office space on favorable terms. With sustainable mobility in mind, the investor is encouraging employees to go greener to work by providing a bike lock and changing rooms with showers in the office building. Energy-saving technical solutions, LED lights and selective waste collection also support sustainability.
Located in a regenerating area of the city, the 5-storey office building offers 2.200 sqm of office space with high technical and interior design standards. The first floor of the building is already fully leased and was completed for Neumann Medical in August this year. The remaining floors are ready for future tenants and the new offices can be ready in 2-6 months depends on the customers' needs. The "heart" of the office building is an inspiring 150 square meter community space and dining area, as well as a rooftop terrace and courtyard for work and leisure. In addition, the office building offers access to retail spaces facing Viola Street and underground parking spaces. The service includes full building management, card access and security.
108 Agency, the exclusive real-estate consulting agency, aims to meet all tenant requirements with flexible rental concepts and a high level of customer focus. Fully adapted to local conditions, the agency focuses on cooperation tailored to the specific needs of its clients.
"It is important to us to develop a modern and economical office building with sustainability in mind. In addition, with this smart development, we want to create not just a simple office building, but a vibrant 'city within a city' concept, all at reasonable and affordable running costs. Our vision is to create a place full of ideas, where we can actively mobilize the pulsating energies of the city in the working environment, somewhat isolated from the stressful chaos of 'Big City Life'," said Oliver Nagy, CEO of DEFACTORING Zrt. "This is exactly what the Immerse City exhibition - which we will continue soon - is all about, displaying the colorful, vibrant, youthful, urban character of the office building, and highlighting the creativity and change of approach with the Trash Art works of refurbished objects with new meaning, which has underpinned the redevelopment of our office building."
DEFACTORING ZRT.