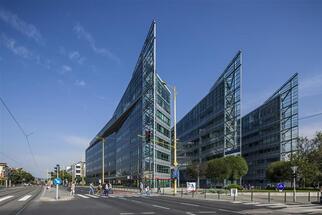 According to the most recently released Q3 market report of the Budapest Research Forum (BRF) class "A" office buildings – such as Alkotás Point – along with class "B" account for some 80% of the 3.35 million square metre Budapest office market stock. Some 24.8% of the total demand in the Budapest office market is made up by renewals, while expansions account for another 6.4%. Contracts renewed by tenants in the long term, and contracts expanding the rented floor area have covered some 10,200 sqm in Alkotás Point since the beginning of 2016. What is more, another 400 sqm of vacant area was leased in the last weeks of the present year. Another report prepared by Cushman & Wakefield (C&W) claims that 8.12% of the total take-up was realized in Central Buda in the subject quarter to which a significant contribution has been made by the 15 year long success of Alkotás Point in lease renewals and expansions.
Thanks to their lease renewals on various occasions over the years Bayer, Concorde Értékpapír, Euronet and HOLD Alapkezelő (former Concorde Alapkezelő) have been present in the 23,100 sqm, seven-floor office building since its handover in 2002. Nu Skin, a US beauty care and cosmetics company, has also been a tenant of the building for more than 12 years and, as its Regional Operations and Project Manager responsible for Eastern Europe, Zoltán Sági put it: "it was only natural that we renewed our contract, having seen that the owner of the building does its best to continually develop and modernise the premises, which is indispensable in a facility of this age. The location and the position of the newly created office were the most important considerations for us, but of course, our decision was also affected by convenience, the quality of the building and the amount of natural light inside".
The C&W report also highlights that vacancy has been continuously diminishing in Central Buda (at present it is 4.6%), which is the lowest ever recorded vacancy rate in this segment of the market. During the same period, occupancy has been continuously increasing at Alkotás Point, keeping the building evenly utilised. Heitman have invested a record amount to keep up the building's high technical standard, focusing, among other functions, on energy monitoring and air technology systems, economically efficient solutions and services worthy of a premium category office building. For instance, its 600 sqm restaurant, serving hot meals, was reopened recently by a new operator with new appearance and an outdoor terrace.
The owner of the premises has, from a professional aspect, found that tenants of today's office market do not necessarily seek buildings offering the largest possible area but more often providing flexible conditions and a high standard of operational services.
"Heitman, on behalf of HEPP IV, acquired Alkotás Point in 2011 and proceeded with a significant capital investment program to rebrand the 10-year old iconic building. The common areas were refreshed, and the strategy was implemented to renew the existing leases and lease-up the vacant units. The strategy proved to be successful and during the past 3 years Alkotás Point has reached a 95% occupancy rate with a prestigious tenant-mix." – added Amy Tonnessen, Senior Vice President, Portfolio Management, Heitman, Europe.
Alkotás Point