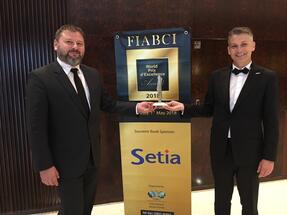 The Bonarka Project of TriGranit, which consists of 92,300 sqm GLA Bonarka City Center retail and entertainment center and Bonarka for Business office complex (B4B) in Krakow, Poland, has been awarded Silver Winner under the Master Plan Category at the prestigious FIABCI World Prix d'Excellence Awards 2018, also known as the global "Oscars" of the real estate industry. FIABCI, the Paris-based International Real Estate Federation, acknowledges the most outstanding real-estate projects all over the world. The high-level jury this year included 58 experts from 35 countries, representing various branches of the real-estate sector. As is traditional, the FIABCI jury announces the World Gold Winners in 13 categories and the World Silver Winners in 10 categories.
TriGranit's Award is outstanding in the history of FIABCI as Polish project had never won any FIABCI prize before and it is the first time for a Hungarian developer gathering recognition with its project abroad. Besides this World Silver Prize, TriGranit has an outstanding track record at the FIABCI Awards, as previously two Hungarian developments had won the FIABCI World Prix d'Excellence International Awards as World Gold Winners – the Palace of Arts of Budapest in 2006 and WestEnd City Center, Budapest in 2001.
"Being acknowledged by the world's most prestigious award with a Polish project has been a much-desired achievement for TriGranit, after winning the Award with two Hungarian developments in the past. This recognition is a great honor for us, as well as good feedback to our corporate efforts and unique approach to our developments. TriGranit's aim is to proceed with the development of Bonarka Project with the remaining office buildings and with other quality Class-A office and retail developments in the CEE region," said Árpád Török, CEO of TriGranit.
Currently, the development of the Bonarka Project in Krakow continues with the construction of Building H in B4B with 10,000 sqm GLA, which is expected to be handed over in 2019. The closing phases of the Class-A office complex, building I and J are also in the pipeline with also 10,000 sqm of GLA each, while the Millennium Gardens office building in Budapest is ready to be launched soon with 37,000 sqm GLA. The company's Slovakian pipeline development, Lakeside Park II in Bratislava will have 13,700 sqm of leasable Class-A office space. The fourth planned project in the CEE region will be Silesia Offices, an office development that will be constructed in two phases in Katowice, Poland with 40,000 sqm GLA. With these developments, TriGranit's office pipeline exceeds altogether 120,000 sqm GLA in three CEE cities.
TriGranit