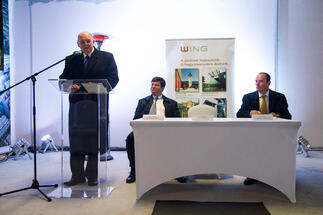 The HUF 10 billion development will be one of Budapest's most efficient sustainable office buildings, showcasing the very latest technology.

At the topping-out ceremony speeches were made, guests were taken for a tour of the building, and a crane lowered the ceremonial beam, marking the highest point of the building, into place. Noah M. Steinberg, chairman and CEO of WING Zrt., emphasised that: "WING, as Hungary's leading property developer, strives to deliver world-class performance in the domestic market. A great example of this is the V17 Office Building, where sustainability meets with the highest standards of technology. Our company aims is to create architectural, functional and financial value through the buildings developed and managed in our portfolio. Thanks to our attitude and our exceptional team of professionals, it is our conviction that we are fulfilling this objective right know, and will continue to do so in our future projects.

The event was also attended by representatives of the E.ON Group. The company has signed a long-term tenancy agreement for 8,500 m2 of space. Some 600 of the company's Budapest employees will move into this efficient, modern building in the second half of 2016. E.ON aims to make use of the latest developments and innovations in its office spaces. A great deal of interest is also being shown in the remaining office areas and ground-floor commercial premises to let.

V17 is a sustainable office building, which is being constructed in a highly accessible location next to the Lehel Market Hall in Budapest's District 13. The building offers the highest available standards of technology, at market rents that are consistent with the Váci út location.

The designs for the V17 Office Building were drawn up by Aspectus Architect, and the general contractor is Market Építő. The project is being financed by K&H Bank.
WING