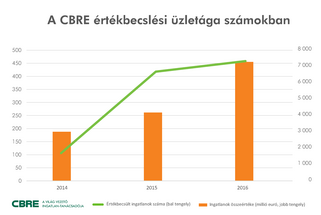 The majority of CBRE's valuers are experts registered by RICS, which ensures professional competency and strict quality control, ultimately raising the effectiveness of the valuation process. Since the financial crisis it is ever more important that valuations are well founded and meet the highest professional standards.
The importance of a valuation – whether for bank financing or transaction purposes – cannot be overemphasized, as it produces the value that will be stated in the books on the long run and hence will have further implications on the perceived business plan of the valuation addressee. Members of the CBRE team, who regularly manage the complex valuations of large real estate portfolios and the leading prime shopping and new development projects in the country are under regular monitoring by their internal auditors, assuring that RICS standards are maintained and followed throughout all phases of the valuation process. Development projects – which are considered the riskiest type of mandate within the profession – are particularly regulated and only valuers with sufficient experience may carry out such assignments.
Today in Hungary anyone with a respective NTR (National Training Register, OKJ) training can become an appraiser. The appraiser's work carries a significant risk in the instance of a property worth hundreds of millions (or even billions) of forints, because if subsequently the valuation is found to be inaccurate the client's damages cannot be recovered because in Hungary the upper limit for the provisions of appraisers rarely exceeds a few tens of millions of forints.
"We are proud to have a mix of Hungarian and international colleagues in our Budapest office. Our expert valuers meet the strict RICS and complex CBRE internal requirements. Furthermore we deliver our clients reliable and secured values by providing insurance as high as 20 million euros. The values we deliver to our Clients are both reliable and secured", Margaréta Mészáros MRICS, Registered Valuer, Head of Valuation at CBRE Hungary stated.
"We are glad to see a major firm such as CBRE in Hungary recognising the importance of employing RICS Registered Valuers, thereby offering greater confidence and professionalism to their clients. RICS Registered Valuers are bound by the highest professional and ethical standards through RICS' Red Book and rules of conduct, and are therefore the preferred choice of any client looking for competent and consistent valuation work", Anna Orcsik, Regional Manager for RICS in Central & Easter Europe added.
About RICS Valuer Registration
RICS Valuer Registration was launched in 2011 across Europe on a "voluntary basis", but due to growing demand today it is mandatory in many markets (including the UK, France, the Netherlands, Italy, Spain, etc.). The designation "RICS Registered Valuer" provides lenders, asset managers and investors with a clear label to identify the best regulated and qualified professionals. RICS regulates its valuers by actively monitoring their activity. The specific quality assurance processes aim to minimise risk and ensure that valuers follow the highest internationally recognised professional standards (RICS Red Book and IVS). RICS valuers are also provided advice and guidance, as well as continuous professional development with attention to the best new market practices and therefore Valuer Registration is a mark for the highest quality control.
CBRE